March 12: The First Meal After the Earthquake/Convenience stores and supermarkets 08 "I shopped for the first time at a convenience store after the earthquake. The shelves were totally empty except for a single can of low-malt beer. I just bought that."
3.11 Archive of Memories & Reccorder311 Collaborative Project
This article introduces the sticky notes visitors contributed and shows what the panels looked like during the exhibition period of "March 12: The First Meal After the Earthquake ––– When, Where, and What Did You Eat?" For the summary of each exhibited panel, please check out the [INDEX] page.
▼About "March 12: The First Meal After the Earthquake"
▼About sticky note comments
[Fall 2014] Exhibited Panels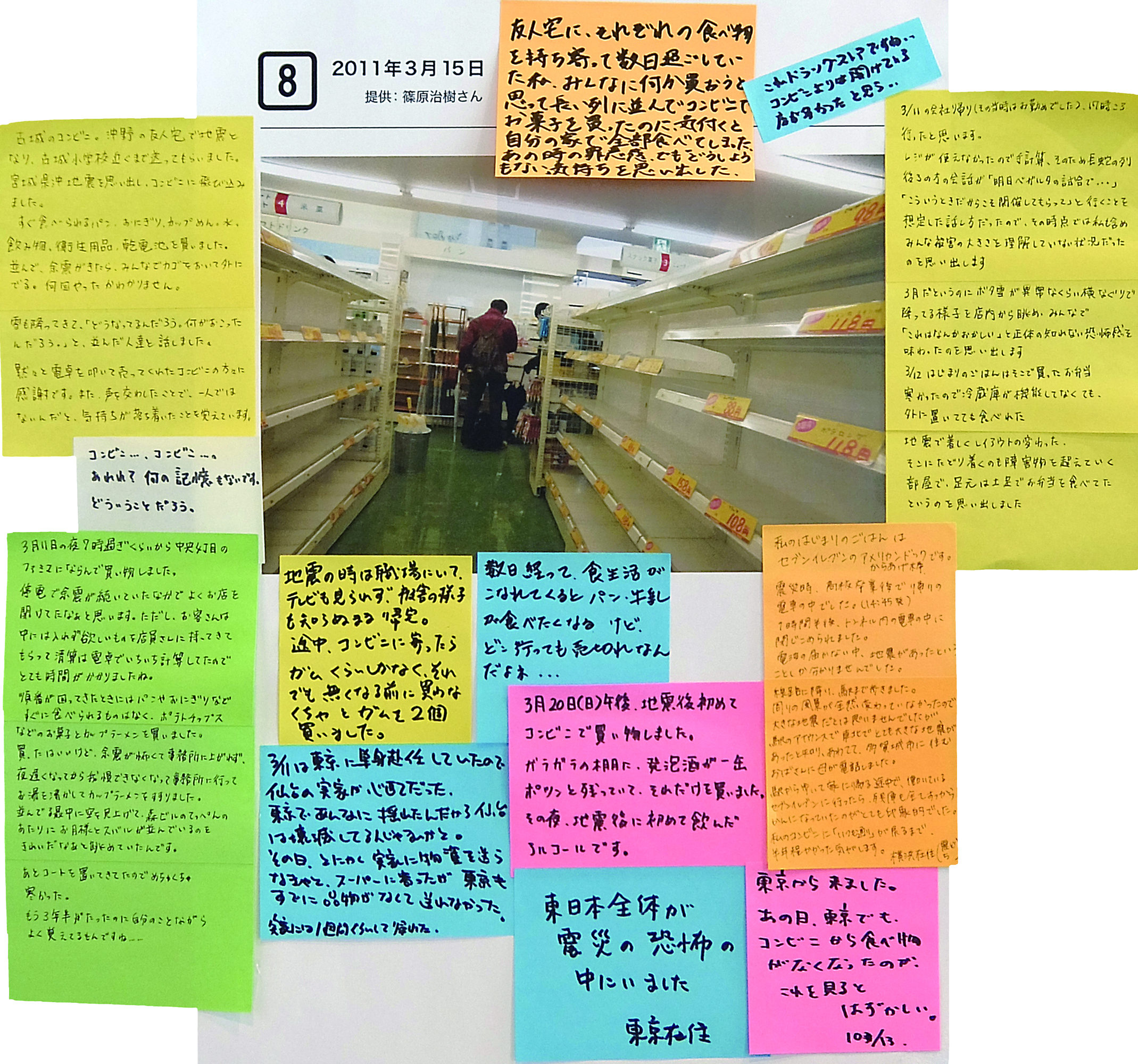 Exhibition Period: October 1st to November 16th, 2014
Venue: Sendai Mediatheque
[Spring 2015] Exhibited Panels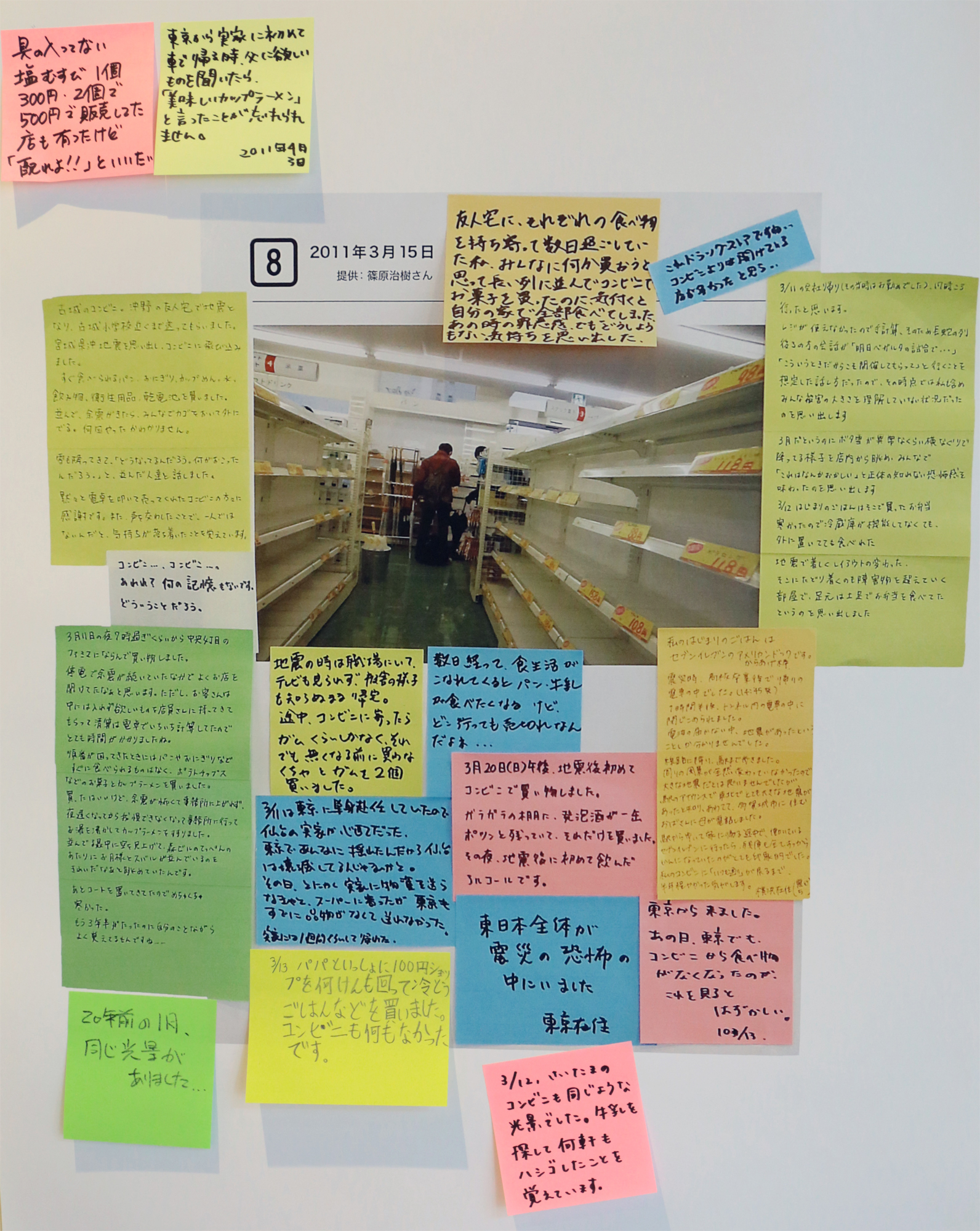 Exhibition Period: February 20th to March 18th, 2015
Venue: Sendai Mediatheque
*On the panels with sticky notes from the [Fall 2014] exhibition, visitors added their own comments.
*Sticky notes written in English are translations of the Japanese text indicated by the arrow.
Comments by Visitors about the Panels
Some comments are not directly related to the photo content or location.
▷It was a convenience store in Furujiro. The earthquake occurred when I was at my friend's house in Okino, and my friend drove me to around Fujishiro Elementary School. I remembered the earthquake off the coast of Miyagi Prefecture and rushed into a convenience store. I bought ready-to-eat bread, rice balls, instant noodles, water, drinks, sanitary items, and batteries. I lined up, and when the aftershocks came, we put our baskets on the floor and went outside. I don't remember how many times that happened. It started to snow, and I talked with people on the line, saying, "What is happening? What happened?" I appreciate the staff at the convenience store who silently worked on the calculators and sold us the products. I also remember that talking to people made me realize I was not alone, and it calmed me down.
▷Convenience stores…convenience stores…Huh? I have no memory at all. I wonder why.
▷From around a bit past seven at night on March 11th, I lined up at a FamilyMart in Chuo 4-chome. I was amazed at how the store was open even when the blackout and aftershocks were continuing. However, customers could not enter the store, so they had store staff bring the items they wanted, and the staff had to check out items using the calculator, so it took a very long time. When my turn came, there was no ready-to-eat food like bread or rice balls, so I bought snacks like potato chips and cup noodles. It was good that I bought them, but I couldn't go up to my office as I was afraid of the aftershock. Late at night, I became too hungry, so I went up to the office, boiled some water, and ate the cup noodles. While I was lining up, I looked up in the sky and saw the moon and the Pleiades side by side around the top of the Mori building. I was looking up, thinking about how pretty it looked. Also, it was extremely cold as I forgot my coat. It's already been three and a half years, but I remember so well about such a story about myself…
▷I was at my workplace when the disaster happened, and I couldn't watch the TV, and I went home without knowing the scope of the damages. I stopped by at a convenience store on the way, and they only had gum. I wanted to buy them before even those were sold out, so I bought two packages of gum.
▷I spent a few days at my friend's house bringing our own food there. I wanted to buy something for everyone, waited in the long line at the convenience store, and bought some snacks. When I noticed, though, I had eaten everything at my house. I felt such guilt at the time. I remembered feeling, "it just can't be helped."
▷After a few days, the food situation settled down, and I wanted to have some bread and milk, but it was sold out everywhere…
▷On the afternoon of March 20th (Sun), I shopped for the first time at a convenience store after the earthquake. The shelves were totally empty except for a single can of low-malt beer. I just bought that. That night, I drank alcohol for the first time after the earthquake.
▷The whole eastern Japan was in the midst of fear from the disaster. A resident in Tokyo
▷This looks like a drugstore… I think there were more stores open than convenience stores…
▷It was on the way back from work on March 11th (I was working at the time). I think I went there around 5:00 p.m. The cash register didn't work, so staff calculated by hand, creating a long line. People at the back were talking, "there is a Vegalta Sendai match tomorrow…," and "they should still hold the match at a time like this…" It sounded like they thought they could go to the match, so, at that point, I remember people, including myself, didn't understand how great the damages were. Although it was March, I saw from inside the store abnormal amounts of large flakes of snow pounding sideways. I remember we all felt a strange sense of fear, thinking, "something is strange." The March 12. The First Meal After the Earthquake for me was the bento lunch box I bought there. It was cold, so the freezer wasn't working, but I could leave it outside and eat it after. I remember the earthquake had changed the building layout significantly, so to get there, I had to get across many obstacles in the room, and I had to wear shoes in the room as I ate the bento lunch box.
▷My First Meal After the Earthquake were corn dogs and fried chicken-on-a-stick at 7-Eleven. At the time of the disaster, I had graduated from high school and was going home on a train (train departed at 2:45 p.m.). An hour and a half later, I was trapped in the train that stopped inside a tunnel. As there was no signal, the only thing I could tell was that there was an earthquake. I got off to the rail track and walked to the station. The scenery around me hadn't changed so much, so I didn't think it was a big earthquake, but the station made an announcement saying there was a very large earthquake in the Tohoku region. My mother hurriedly called my aunt, who was living in Tagajo City. While I was walking home from the station, I stopped by at a convenience store that I was working at, and it left a strong impression of how the shelves and the stocks were totally empty. I think it took about half a year until my convenience store returned to "normal." A resident in Yokohama (at the time of the disaster)
▷I came from Tokyo. That day, food disappeared from convenience stores, even in Tokyo. Seeing this, it is embarrassing. October 13th
▷Rice balls with only salt toppings were being sold for 300 yen each. Some stores were selling two for 500 yen. I wanted to say, "hand them out for free!!"
▷As I was returning to my parent's home from Tokyo for the first time, I asked my father for something he wanted. I can never forget that he said, "a delicious cup noodle." April 3rd, 2011
▷Twenty years ago, in January, I saw the same thing happen…
▷On March 13th, I went around many 100 yen shops with my dad and bought frozen rice and so on. Convenience stores didn't have anything.
▷On March 12th, convenience stores in Saitama looked pretty much the same. I remember going around many stores looking to buy some milk.
About sticky note comments
People from many different backgrounds visited this exhibition, including people from Sendai City, as well as people from everywhere, including coastal areas, inland areas, inside and outside of Miyagi Prefecture, and inside and outside of Japan. There were also both adults and children, and these people left comments on sticky notes about what they remembered from seeing exhibited photos at the time of the disaster. Here, the original text comments that were left are posted without editing. Also, English text in gray are translations of Japanese texts.
Original Photo
"People Start Lining up for Sendai Asaichi (Morning Market) from Early in the Morning" *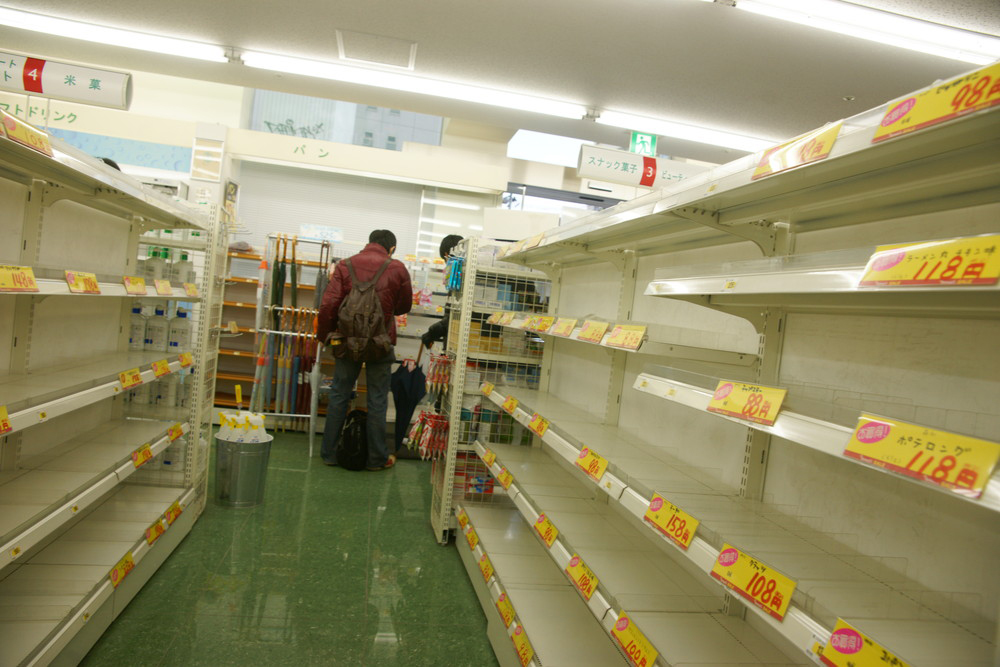 March 15th, 2011
Aoba Ward, Sendai City, Miyagi Prefecture
Recorded by: SHINOHARA Haruki
*Source:
Photo Collection "3.11 Record of Memory—3.11 Disaster that Citizens Took as Record of Memory—"
Issued and provided by: 20th Century Archive Sendai
About "March 12: The First Meal After the Earthquake ––– When, Where, and What Did You Eat?"
The project is a participation style exhibition that exhibits photos of "meals" at the time of the disaster, such as photos related to emergency food distribution, grocery shopping, and people sharing meals at a table. Visitors were free to write sticky notes about what they remembered after seeing the photos and how they lived at the time. This exhibition was planned collaboratively by 3.11 Archive of Memories (at the time, called 20th Century Archive Sendai) and the center for remembering 3.11 (recorder311).
Please check out the [INDEX] page for the summary of each exhibited panel and utilization/application examples.
Recorded on
15 March, 2011
Recorded by
SHINOHARA Haruki
Recorded at
Aoba Ward, Sendai City, Miyagi Prefecture
Series