March 12: The First Meal After the Earthquake – Index –
3.11 Archive of Memories & Recorder311 Collaborative Project
About "March 12: The First Meal After the Earthquake ––– When, Where, and What Did You Eat?
The project is a participation style exhibition that exhibits photos of "meals" at the time of the disaster, such as photos related to emergency food distribution, grocery shopping, and people sharing meals at a table. Visitors were free to write sticky notes about what they remembered after seeing the photos and how they lived at the time. This exhibition was planned collaboratively by 3.11 Archive of Memories (at the time, called 20th Century Archive Sendai) and the center for remembering 3.11 (reccorder311).
▼Read the explanations of "The Activity Report of the Center for Remembering 3.11 "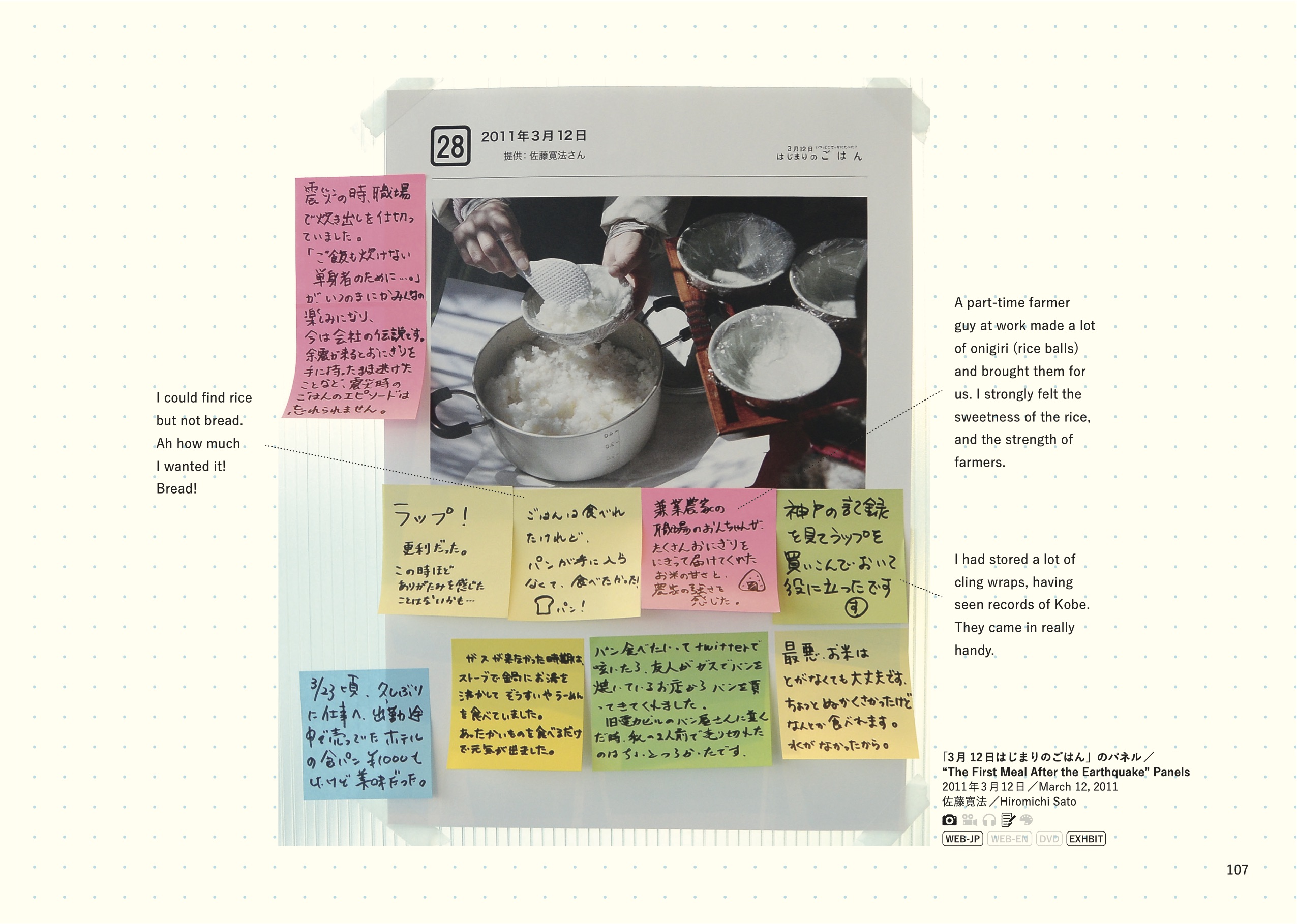 Exhibited panels are divided into different categories. You can also click each thumbnail image to see the panel details and images of the sticky notes that visitors contributed during the exhibition period.
Categories
|  Individually Owned Stores  |  Convenience Stores and Supermarkets  |  Preserved Food and Relief Supplies  |  Emergency Food Distribution  |  Sales  |  Cooking and Preparation  |  People Waiting in Lines  |  People Having Meals  |  Products  |  Handwritten Signs  |  Other  |
Individually Owned Stores
01
02
03
I lost someone I loved and didn't care about what I would eat.
 
Restaurants that use propane gas kept their businesses open for us.
 
My child was still small, and I could not go outside, so people in the neighborhood bought extra eggs and meat for our family at the morning market.
March 12th, 2011
Aoba Ward, Sendai City
Recorded by: SHINOHARA Haruki

 
March 13th, 2011
Wakabayashi Ward, Sendai City
Recorded by: URUSHIDA Yoshitaka
 

March 15th, 2011
Aoba Ward, Sendai City
Recorded by: SHINOHARA Haruki
Convenience Stores and Supermarkets
Preserved Food and Relief Supplies
11
12
13

Candles on the wedding cake we stored for over 20 years, ←the gigantic ones!! They did an amazing job. Our bond as husband and wife was revitalized!?
 
We had a stock of about ten plastic bottles of two-litter water, but our family of five quickly used them up.
 
Various things arrived from acquaintances and relatives from all over Japan. From my dad's friend, there was a letter titled 'Memories of Me and You' that made me laugh a bit.
March 11th, 2011
Aoba Ward, Sendai City
Recorded by: TAKAHASHI Reona
 
March 16th, 2011
Aoba Ward, Sendai City
Recorded by: ABIKO67
 
March 15th, 2011
Aoba Ward, Sendai City
Recorded by: SHINOHARA Haruki
Emergency Food Distribution
17
18
19
The people serving the food were warm, too.

 
I distributed food at my neighborhood association, too. Alpha rice.
 
I went to the office that supports the homeless, thinking, 'I'll do something to help them.' I found homeless people distributing food to the people nearby.
March 12th, 2011
Taihaku Ward, Sendai City, Miyagi Prefecture
Recorded by KATO Naomi7


 
March 12th, 2011
Wakabayashi Ward, Sendai City, Miyagi Prefecture
Recorded by: MIURA Hiroyuki
 
March 13th, 2011
Miyagino Ward, Sendai City, Miyagi Prefecture
Recorded by SATO Keiko
Sales
22
23
24
I lost someone I loved and didn't care about what I would eat.
 
Restaurants that use propane gas kept their businesses open for us.
 
My child was still small, and I could not go outside, so people in the neighborhood bought extra eggs and meat for our family at the morning market.
March 12th, 2011
Aoba Ward, Sendai City
Recorded by: SHINOHARA Haruki

 
March 13th, 2011
Wakabayashi Ward, Sendai City
Recorded by: URUSHIDA Yoshitaka
 

March 15th, 2011
Aoba Ward, Sendai City
Recorded by: SHINOHARA Haruki





▶Read the explanations of "The Activity Report of the Center for Remembering 3.11 "



Almost four years have passed since the disaster, and there seems to be less and less opportunity to talk about it, even in Sendai. Probably it is not easy for anybody to look back and talk about it. Yet if it is about "food," with which all of us had some sort of trouble in that "extra-ordinary" everyday life back then, we believe there are things all of us can talk about regardless of the scale of damage one suffered.
"The First Meal After the Earthquake — When, Where and What Did You Eat?" (in collaboration with the NPO 20th Century Archive Sendai) was a participatory project in which photographs related to "food" during the disaster are exhibited and the audience are invited to write what they were reminded of or what they thought on sticky-notes that is to be put up with the photographs. It was an attempt to provide a trigger for people to re-view the disaster as "their own business."pp.106-107, The Activity Report of the Center for Remembering 3.11 (2015)