What is recorder 311 Recording Hut?
The Recording Hut is temporarily closed to prevent the spread of COVID-19.
Recorder 311 Recording Hut is a new project that works with pairs of ordinary people to preserve the stories of March 11.
Talk to your family or friends about memories of that day, how life changed afterwards, and your feelings today. This project gives people a chance to ask the questions they couldn't ask and open up about the things they've been wanting to say.
Record your memories as a pair, with an interviewer and interviewee, so that they can be preserved for future generations. This is a project by the Center for Remembering 3.11.
How it works
・The Recording Hut is a small recording room for two people.
・Each pair will speak for 40 minutes, sharing memories of the disaster.
・The recorded conversations will be preserved in recorder311 to share with future generations.
・Anyone who wants to hear about, share, or preserve stories about the disaster can participate.
・You can request for the recorded video to be sent to you at a later date.
How to use the Recording Hut
| | | | | |
| --- | --- | --- | --- | --- |
| 5min. | | 5min. | | 40min. |
| User Guide | ⇒ | What to Talk About | ⇒ | Record a Story |
| Information about this Project | | Decide what we talk about | | Talk together and Record a Story |
What do we talk about?
Sample questions:
・What did you do right after the earthquake?
・What did you eat the day of the earthquake?
・When did you resume working (or attending school)?
・What was tough for you?
・What kept you going at the time?
・How has your life been since the disaster?
・Has your life changed a lot, compared to before the disaster?
・What is something you don't want to forget?
・Did you ever feel others did not understand your situation?
・What do you do you think can be done to build understanding?
・Did you feel like you missed any opportunities?
・Did you make any big decisions?
・What did you come to cherish?
・Is there anything that you've been thinking about recently?
・Is there anything new you want to try from here on?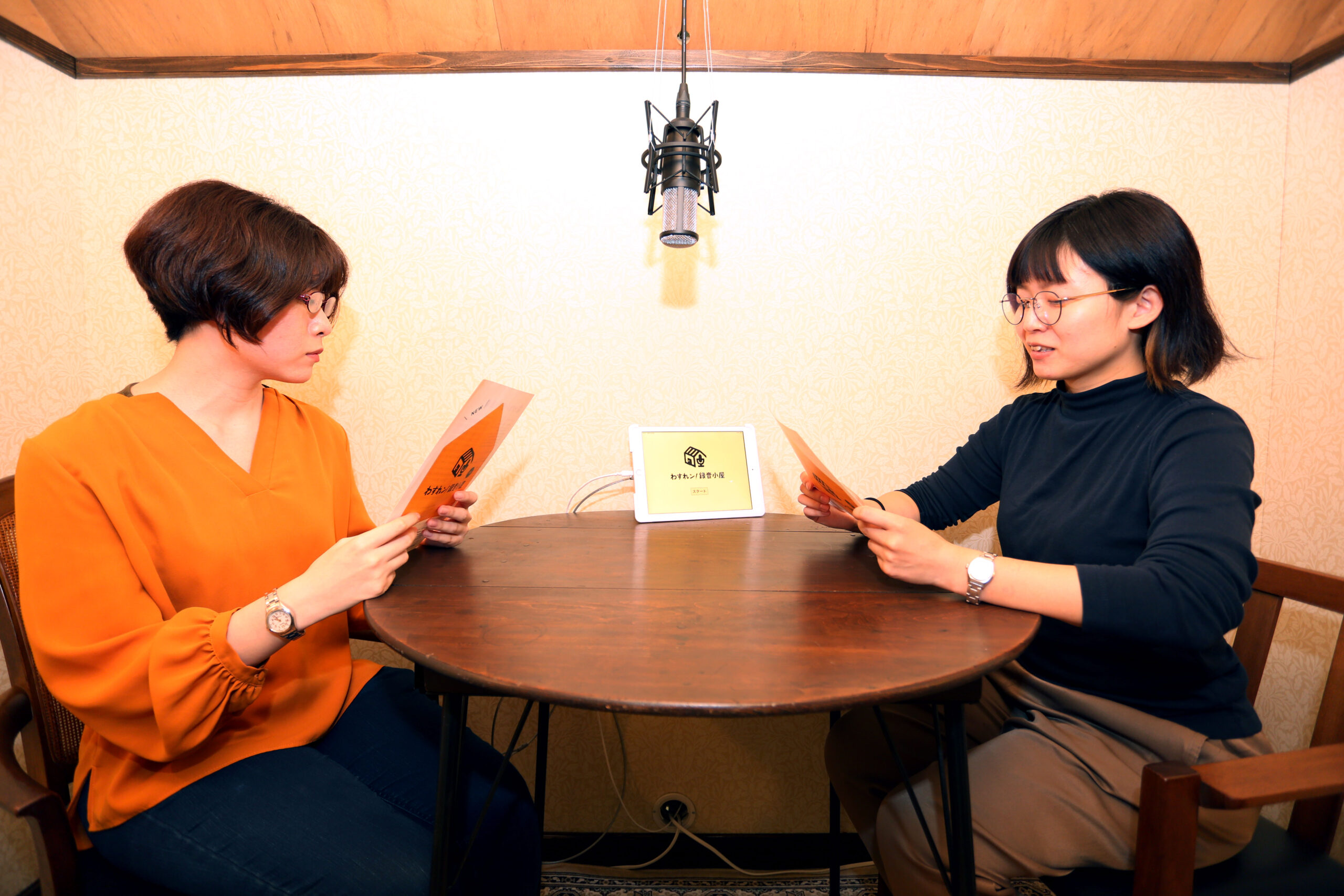 How do I participate?
Venue:
Sendai Mediatheque
2F Audio-Visual Library reception counter
Hours:
Tue-Fri 10:00-18:30
Sat-Sun, Public holidays 10:00-16:30
The facility follows the Sendai City Library holiday calendar. Please inquire for details.
● Come to the counter directly if you wish to participate.
● We will attend to you on a first-come, first-serve basis. Note that there may be a wait
● Call the number below to inquire about waiting times, etc.
Inquiries:
center for remembering 3.11 (Sendai mediatheque)
e-mail: office@smt.city.sendai.jp
Planning co-operation: Tomomi Kawamura
Recording system design & development: Motoki Ohkubo
Production: FACTORY-K
*The Recording Hut is modeled after the work of StoryCorps, an American nonprofit.
Recorded at
sendai mediatheque, 2-1 Kasuga-machi, Aoba-ku, Sendai, Miyagi
Series
Keywords