Bustle in the City
Bustle in Sendai
In Sendai Asaichi (morning market), vegetables and various other things were sold, and in spite of the late morning, the street was crowded with people looking for fresh food. A shop owner said that they had just driven with two 4-ton trucks to a farming family with whom they did business to buy vegetables. He said that the family was in trouble because they couldn't buy gasoline, so they couldn't go to market to sell the crops they had gathered.
Date: March 16, 2011, 11:00
Place: Sendai Asaichi in Aoba-ku, Sendai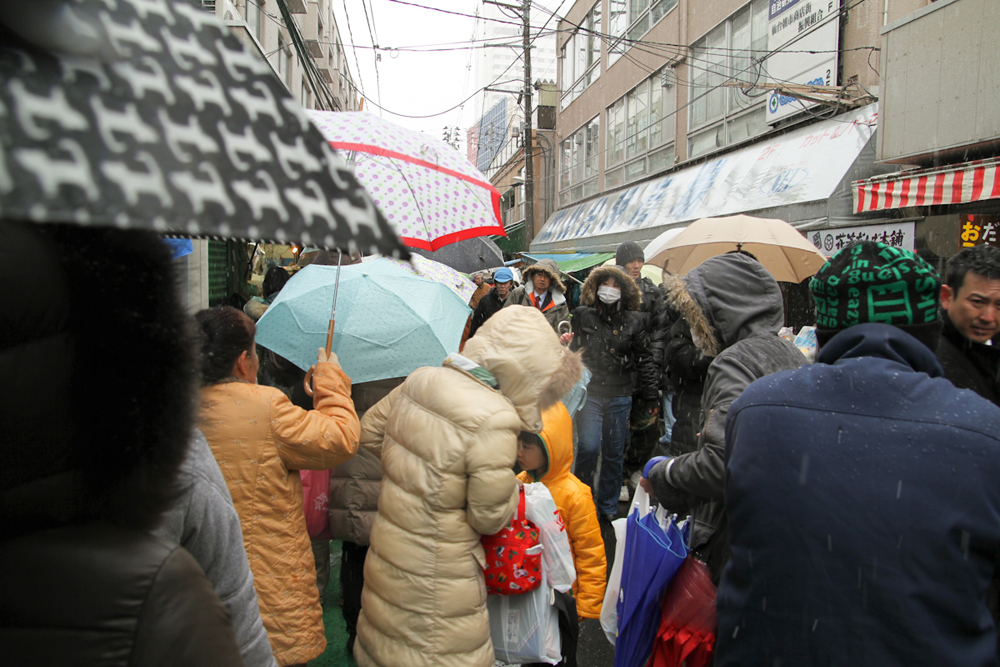 The line for Sakurano department store went through the shopping arcade and stretched to the side of Sendai Station.
Date: March 16, 2011, around 12:00
Place: HAPINA Nakakecho in front of Sendai Station
Passing through the intersection, I saw a line of people holding umbrellas, queuing for Daiei supermarket. The line stretched to the intersection with Hirose-Dori street, turned right and passed out of view. How many hours did they wait in line?
Date: March 17, 2011, 15:30
Place: Marble Road Ohmachi in front of Sendai Station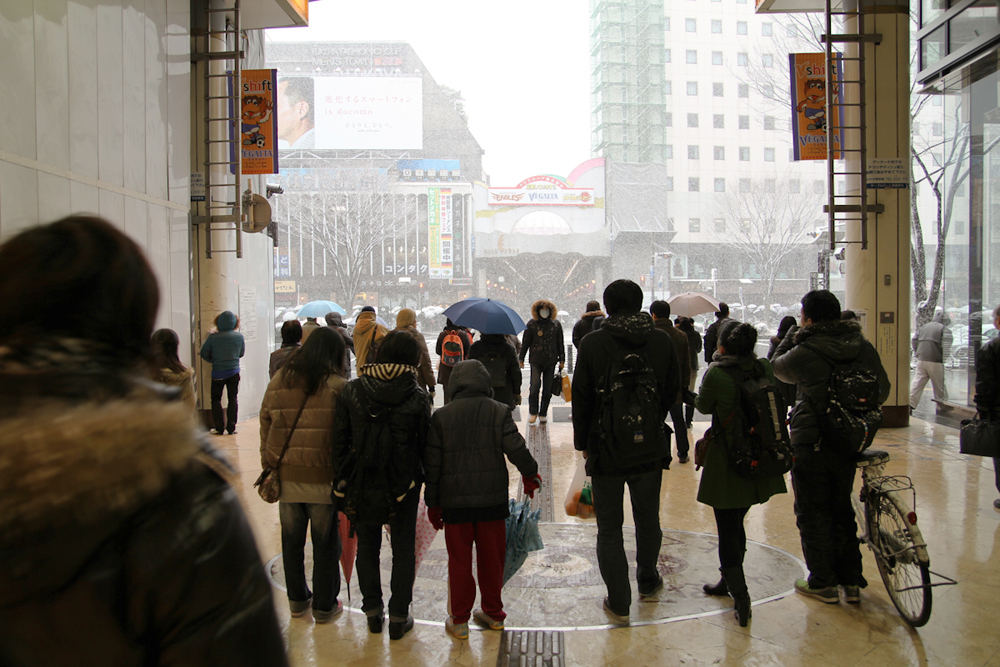 I learned that Marche Japon was held at Ichibancho Shopping Street and dropped in looking for fresh food. There, by chance I met a man who had been the manager of a restaurant in front of Sendai Station. As I hadn't seen him recently, I caught up with his news. He said that he had left the restaurant and found a job with an agricultural cooperation in Yamagata, where he now lives. He said that Yamagata had not been badly damaged by the earthquake, and he had few difficulties except for buying gasoline. I bought a whole big cabbage from his shop to take home.
Date: March 21, 2011, 14:00
Place: Ichibancho Shopping Street in Sendai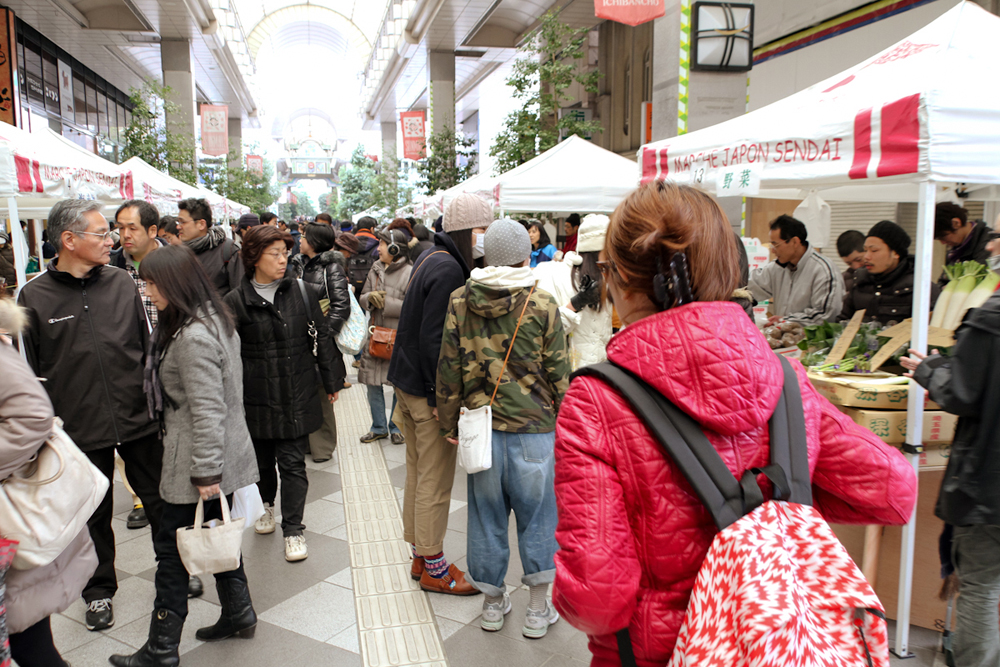 At this time, the railways were not yet running again, so highway buses were the only public means of long-distance transportation.
Date: March 16, 2011, around 13:00
Place: Highway bus station at the Sendai Station East Exit Highway Bus Terminal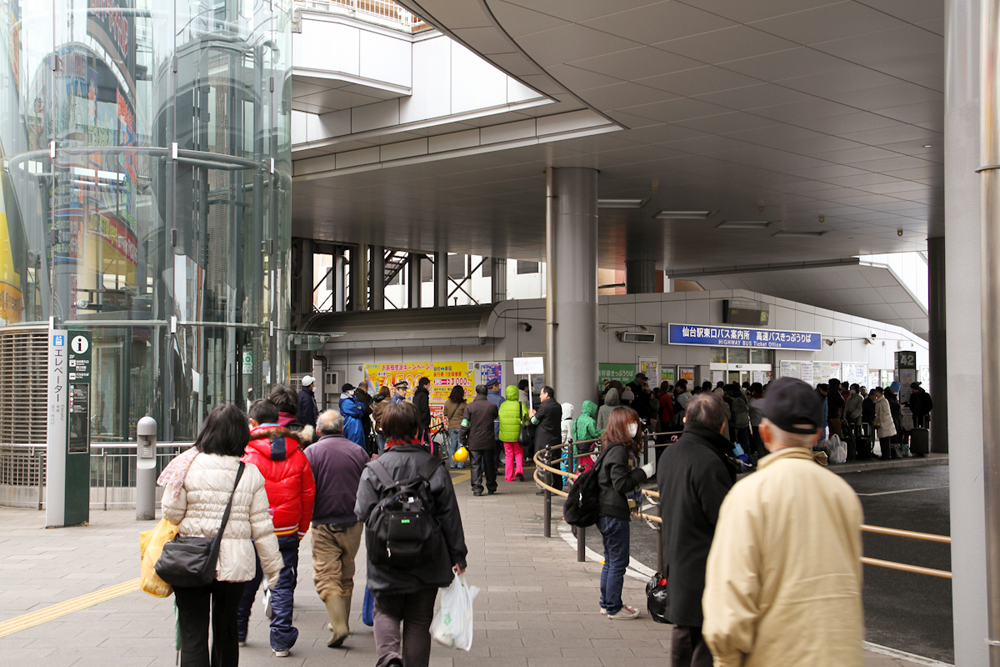 Recorded on
March 16, 2011
Recorded by
Izuru Echigoya (recorder311 participant)
Recorded at
Sendai Asaichi, Chuo, Aoba-ku, Sendai, Miyagi
Keywords