Supporting the Local Area with Cardboard Furniture – house publishing –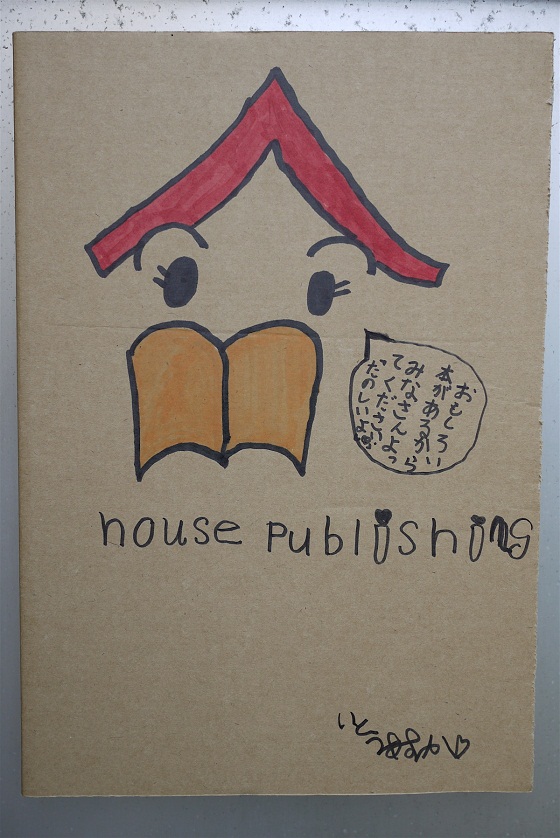 On July 8, 2011, I drove to Kesennuma to meet Mr. Kazunari Fujimura who is supporting evacuation centers, kindergartens and day-care centers for children by making cardboard furniture.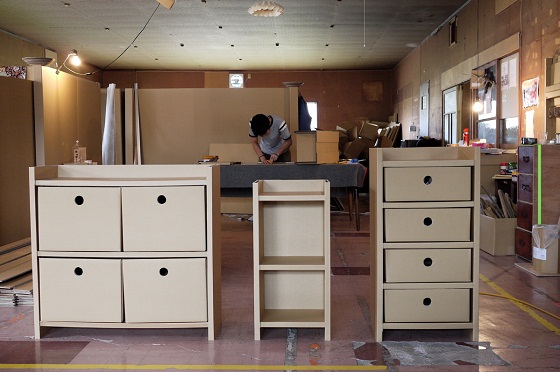 Mr. Fujimura, who is from Kesennuma, is enrolled in the Department of Architecture and Building Science, at the Graduate School of Engineering at Tohoku University, and is in the second year of his leave from the university.
Last year, he lived in Shanghai to study Chinese for a year. From that point on, he had a vague desire to sell secondhand books and furniture that he made. He thought he would devote his remaining leave to volunteer activities in Israel. But on the day he had a physical checkup in preparation to go to Israel, the earthquake struck.
Fortunately, his house is located on a hill, so damage was relatively limited to fallen roof tiles, and his family were all safe. However, as there was no electricity and no gas, he spent the night without any means of finding out what was happening in the city.
"I had nothing to do and, for no special reason, I couldn't help but look up. Then, I saw a myriad of stars in the dark sky. I think I will never forget that sight as long as I live."
He used a vacant factory near his family house as his atelier, and immediately began to visit evacuation centers and volunteer centers to collect information. What became clear was the fact that his offers to provide partitions for evacuation centers, which he thought would be needed, were being immediately turned down.
"People staying in evacuation centers after the earthquake and tsunami were perplexed and appeared to be crying and angry. Some people had bloodshot eyes, and there was a feeling that they didn't want any uncalled-for intervention," says Mr. Fujimura.
It seems that it is very difficult to determine the timing of introducing partitions into evacuation centers.
He was often told, "We are getting along with each other here, so we don't need partitions," and his offers were rejected. On the other hand, those who did actually want partitions had difficulty expressing this in front of other people.
There were problems securing space and border disputes, and initially the management side tended to avoid any trouble as much as possible.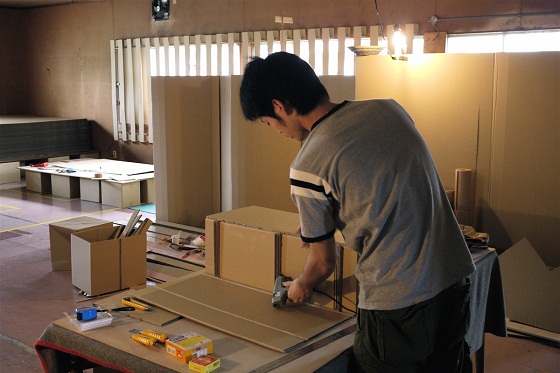 "Partitions must not become walls that hamper the family-like atmosphere. There is no one who does not need a partition to protect their privacy during months of staying in an evacuation center. What "house publishing" should do is to consider a mechanism that allows everyone to live like a family by installing partitions," says Mr. Fujimura.
He says that sometimes the image of the word "cardboard" caused misunderstanding and that his offer was often rejected in a tone as if to say, "Are you trying to make me live in a dog house? We can make that by ourselves." But after he visited them several times and showed them a real partition, they said "It's good!", and he got orders from them on the spot.
What he is careful of when talking with people staying in evacuation centers is "to listen" and "not to force a partition on them because he is not running a business," and "not to do something that rubs the victims up the wrong way."
He says he learned these things from his seniors and people with experience.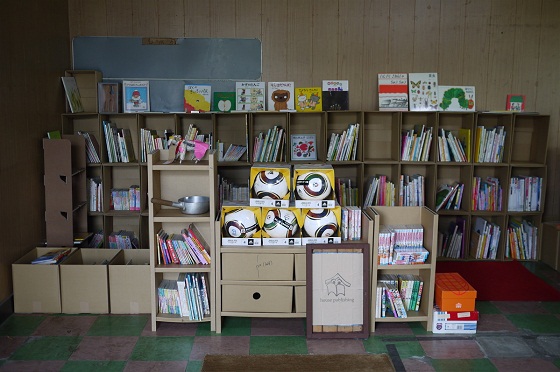 Mr. Fujimura's work is impossible without good communication with local people. He visits the sites, carefully listens to their requests, thinks about the design, labors over them for hours, delivers the finished works by himself, and then listens to them again to find out what they need next. He values each of these processes very much.
In the afternoon, when I was helping him with his work and struggling with a piece of cardboard, a boy came to his atelier.
Recently, Mr. Fujimura has created a free space in his atelier with picture books and toys. It has become a place where elementary school children in the neighborhood freely come to make various things and stop off on the way home to have a chat.
As soon as he entered the atelier, a boy "K" picked up a piece of cardboard saying "I can stay here only eight minutes today." Mr. Fujimura passed him a cardboard strip and asked him to write something for Tanabata. He wrote, "I wish to become a cardboard craftsman." We were absolutely amazed. He is no doubt Mr. Fujimura's best pupil.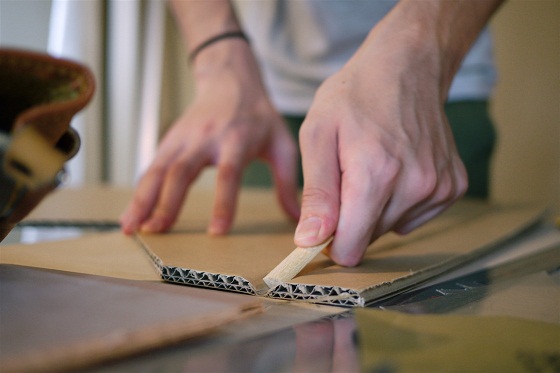 Text/Yuki Nakamura  Photo/Daisuke Matsushima
Recorded on
July 8, 2011
Recorded by
Yuki Nakamura (recorder311 participant)
Recorded at
Kesennuma, Miyagi
Keywords