I Was Not a Disaster Victim
Written by: Sou Yanagida
30's, FtM transgender, living in Hirosaki, Aomori Prefecture.
Receiving hormone treatment for GID, living as a man. Has already come out to family and friends. Lives together with partner.
Used to hold offline gatherings for closeted sexual minority members in Aomori Prefecture, but felt a need to become a visible figure, and so started the volunteer group Scramble Egg in 2008. With the motto "Keep it fun and take it easy," the group aims to raise public awareness and create a community in which members can live true to themselves.
▽About the glossary of terms

■March 11, 2011 – The earthquake hits
Having started up a real estate company the previous year, I was preparing for the first peak period in the spring. As I worked away on my computer alone in the office, the ground suddenly began to shake.
Earthquakes almost never happen in the region where I live. Thinking that this quake would soon calm down I sat still, but the shaking gradually grew stronger, when all of a sudden the lights went out. The shaking continued and I anxiously left the office. Many of my neighbors had also come outside. The temblor finally subsided, and at this point we were still able to laugh and say to each other, "That was a big one."
The first thing I did was return to my parents' house nearby to check on them. Next I went around to the various properties I was managing to make sure nothing was amiss. My car radio was tuned to the local community FM station, so I was able to get all the local news, such as blackouts within the Prefecture, the lack of a timeline for restoring power, and the weather forecast. The earthquake had been a magnitude 4 within the city.
I took out the radio/cassette player I had at home, put in some batteries, and listened to the community FM station. The neighborhood convenience store was open so I went to buy batteries and snacks. As dusk approached, I went to make my rounds again, handing out candles to tenants who didn't have any lights. At my parents' house the whole family gathered around the charcoal briquette kotatsu heated table in one room. The radio was tuned to NHK or something, and although the news was saying that a large area had been struck by the disaster, my mind was fully occupied with the situation at hand and I was not able to think about other areas.
I was able to borrow a reflective space heater from my parents and bring it home to the house I shared with my partner, where we warmed ourselves by its glow.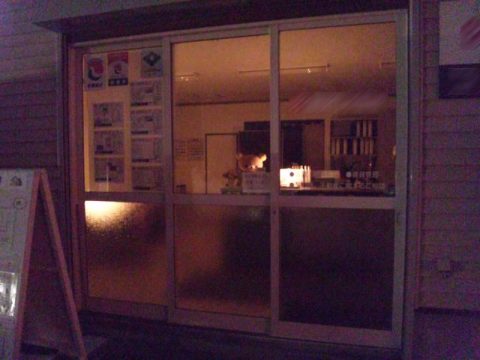 March 11, 2011.
The night of the disaster at the office.
Although I couldn't work due to the blackout, I thought there might be people out on the pitch black streets who felt uneasy, and so I lit some candles.

■March 12, 2011 – Power restored
The next morning was frigid, and snow had fallen during the night. The power was still out, but both my partner and I went to work as usual.
I couldn't use the computer or the phone, but I thought people without heat might come by so I brought the reflective space heater with me and opened the office. People around the city were posting information about open supermarkets and gas stations on Twitter, so I followed their lead and started posting. The community FM station cooperated with residents and continued broadcasting local information. As I sat alone in the office, a high school friend popped in to say hello. Somehow I was relieved to see the face of a close and trusted friend. After deciding to grill mochi rice cakes on the space heater, the two of us got up and walked to the supermarket. The store we arrived at was unable to use its electric cash registers, and so the number of customers allowed inside at any one time was limited, resulting in a line at the entrance. As we joined the line and waited, the electricity came on all of a sudden. The crowd gasped in wonder and applauded.
Although the power was back on, we went ahead with our plan and bought mochi and sweet potatoes and grilled them on the heater. The office was filled with a surprisingly strong smell of burning, but our hearts were warmed nonetheless. I finally felt that we would be able to return to our normal lives and felt relieved.
The truth is that until that time I had thought of us as disaster victims. It was the first time I had ever experienced such a widespread blackout, supply shortages, and fuel shortages.
However, when I popped by my parents' house and saw the images on the TV I couldn't believe my eyes. Forget blackouts, the screen showed image after image of a brown deluge sweeping over towns and fields. Those places in which people lived their lives were being swallowed up.
From that day, I no longer thought of myself as a disaster victim.

■Sexual minority community

I am a leader of a group in Aomori Prefecture which works to educate people about sexual minorities. Many of our members are sexual minorities. We had planned to have a farewell party for one of our members who was leaving Aomori for work on the 13th.
After the earthquake, however, I made almost no contact with the members of the group.
There were many reasons for this: I thought we should avoid using up the charge on our cell phone batteries; I didn't want to put undue stress on the communications networks which were needed for support efforts in the disaster area; the damage to Aomori Prefecture was limited, and I thought it was unlikely that any of our members had been direct victims; if one of our members had been hit by the disaster, they would likely be taking refuge in a local community evacuation center, and any untoward movement on my part might risk outing them; I couldn't think of any members who required urgent support as a member of a sexual minority; and I was sure that everyone had their hands full just living their day-to-day lives.
Conversely, I could think of almost no benefits to hurriedly making contact with the group.
One week after the earthquake, I finally sent out a message to all members of the group. I urged them to first look after themselves so that they would be able to support many more people in the future. I thought that the real challenges lay ahead.
Furthermore, in order to avoid any incidents due to secondary disasters or aftershocks, I decided to refrain from gathering the group for the time being. We restarted our activities after the snow had melted one to two months later.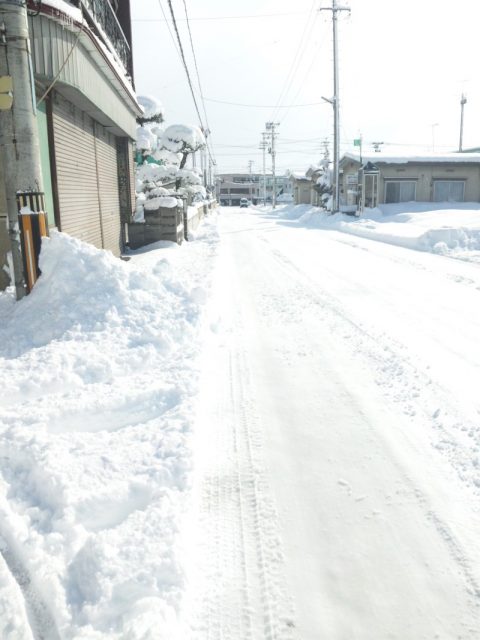 March 18: Snowfall
One week after the earthquake. March 18, 2011.
The season was still cold and the snow still fell.
On cold days I would think about how cold the people in the disaster area must be, and it was unbearable.
I did my best to conserve lamp oil and gasoline so that as much as possible could be sent to the disaster area.

■I Was Not a Disaster Victim
Although Aomori is considered part of the disaster area, the area in which my group members and I live
suffered nothing more than a blackout and some supply shortages. For this reason, I thought it was our duty to continue with our normal everyday lives.
Additionally, the voices of sexual minorities who were in difficulty within my Prefecture did not reach my ears. Even when there is no emergency situation, it is hard enough to meet and stay connected at the best of times. Public awareness groups in particular tend to be treated warily. This is to protect closeted people who are living within their local communities. Furthermore, most blackouts in the prefecture were resolved within two to three days, and even in Hachinohe city, which had been hit by the tsunami, the last shelter closed at the beginning of May. Living in a shelter and hiding one's sexuality for a long time would increase stress and the danger of being outed, but perhaps the situation did not become overly difficult for members of sexual minorities.
In contrast to the situation, however, many people asked about our safety and requested information about the disaster area and Aomori. As a leader of a sexual minority group, I received many communications saying, "You must be extremely worried about your colleagues," or "What is the situation like there?" or "Are you okay?"
More than the disaster itself, these were far more burdensome and painful for me to bear.
I was not a disaster victim. No matter what others may think, I do not think of myself as a disaster victim. I received no information. I was afraid that my words would be interpreted regardless as the words of the sexual minority disaster victims of Aomori.
For some reason I felt I was doing the wrong thing by prioritizing the local community, or restraining myself from confirming people's safety, or not knowing what the situation was, or even being in the disaster area but not being a disaster victim. While other people living in Tohoku were in dire straits, I was living a carefree life… the more people tried to contact me, the more my pangs of guilt grew.
This is the first time I have put those feelings of guilt into words. For the longest time I could not voice them. But today I am able to write about that time from my own point of view.
Perhaps it is because I am finally able to hear the voices of those who were victims of the disaster, or perhaps I am finally able to accept that I can speak as a person who was not a disaster victim. I feel as though the perspective of those who inquire of me have also begun to change.
Perhaps my time is about to finally start moving again.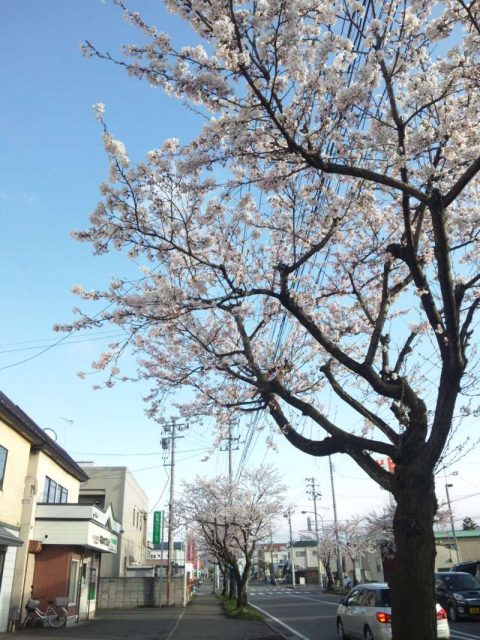 April 28, 2011.
At the end of April, the cherry blossoms were in bloom. Spring had finally arrived in the north.
Rebuilding efforts and searches for missing persons had only just begun, but with the end of winter a small ray of hope could be felt.
Contributed: January 2014

■Sou Yanagida's activities:
Scramble Egg
http://gochamazetamago.main.jp/
https://www.facebook.com/gochamazetamago
■About terminology:
In Rainbow Archive Tohoku's "Memoirs", there are many terms related to sexuality which may be unfamiliar. The meaning of each term is given in the broadest sense in the glossary linked below.
Rainbow Archive Tohoku glossary of terms
For more information, please visit the Sexualities and Human Rights Network ESTO or see other websites and books related to sexuality.
■About Rainbow Archive Tohoku
Our group gathers, records, and transmits direct accounts from LGBT people and people of various sexualities. By widely asserting the existence of these overlooked minorities in local communities, we hope to help people better understand their differences and find respect for each other, to create a more harmonious society for all.
Our organization was founded in June 2013 by four groups operating out of Sendai in Miyagi Prefecture: Tohoku HIV Communications, Yarokko, Anego, and ♀×♀ Ochakko Nomikai, Sendai.
Contact: ochakkonomi@gmail.com (♀×♀ Ochakko Nomikai, Sendai)
*The rainbow is used all over the world as a symbol of sexual diversity.
| | |
| --- | --- |
| Recorded on | 11 to April 28 March, 2011 |
| Recorded by | Sou Yanagida |
| Series | |
| Keywords | |