March 12: The First Meal After the Earthquake/Preserved Food and Relief Supplies 11 "Candles on the wedding cake we stored for over 20 years, ←the gigantic ones!! They did an amazing job. Our bond as husband and wife was revitalized!?"
3.11 Archive of Memories & Reccorder311 Collaborative Project
This article introduces the sticky notes visitors contributed and shows what the panels looked like during the exhibition period of "March 12: The First Meal After the Earthquake ––– When, Where, and What Did You Eat?" For the summary of each exhibited panel, please check out the [INDEX] page.
▼About "March 12: The First Meal After the Earthquake"
▼About sticky note comments
[Fall 2014] Exhibited Panels
Exhibition Period: October 1st to November 16th, 2014
Venue: Sendai Mediatheque
[Spring 2015] Exhibited Panels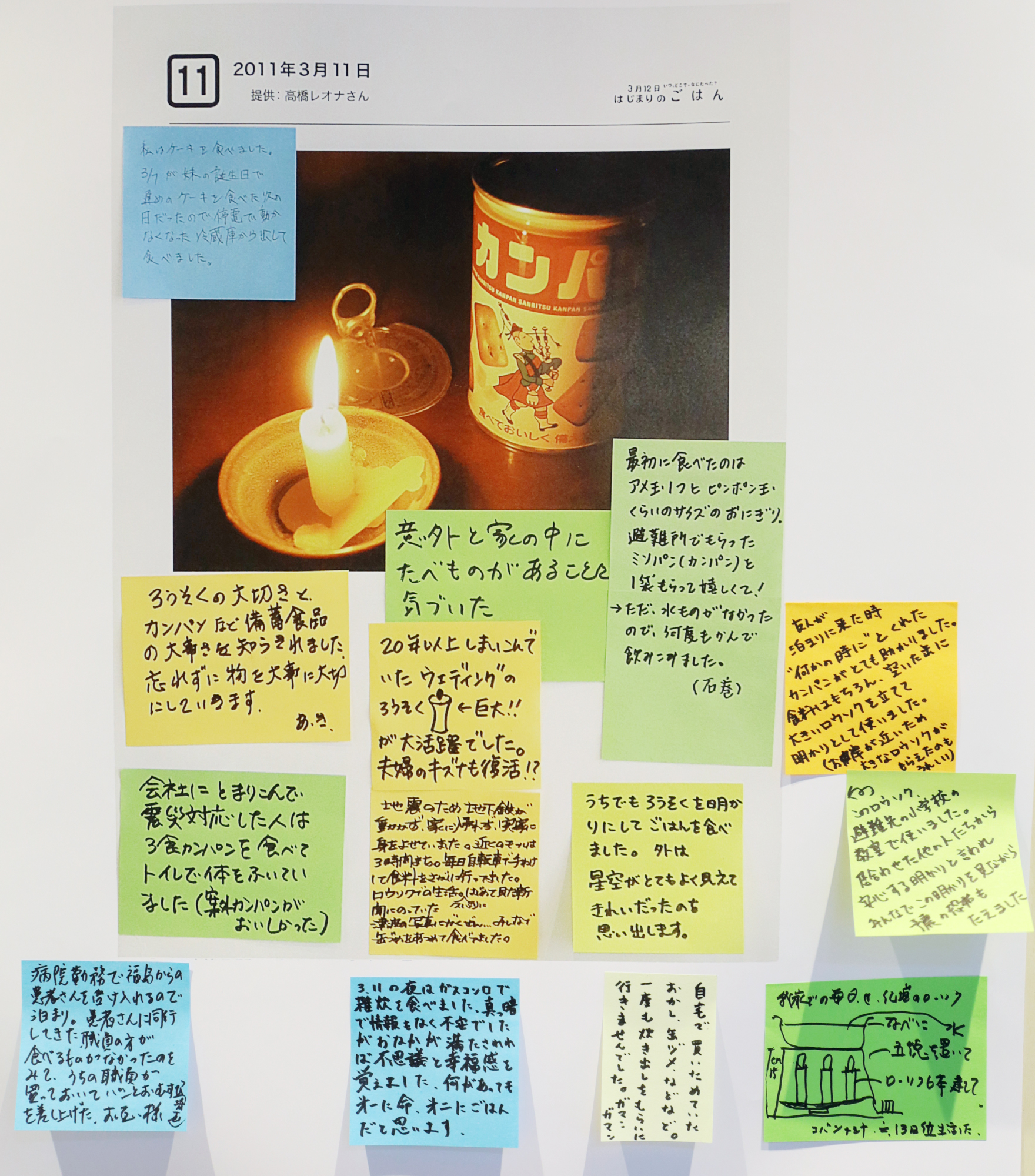 Exhibition Period: February 20th to March 18th, 2015
Venue: Sendai Mediatheque
*On the panels with sticky notes from the [Fall 2014] exhibition, visitors added their own comments.
Comments by Visitors about the Panels
Some comments are not directly related to the photo content or location.
▷I had some cake. March 7th was my younger sister's birthday, and we ate cake a while after her birthday. This was the following day, so I ate the leftover cake out of the fridge that stopped working due to the blackout.
▷It made me realize the importance of having candles and food stock like hard-dry biscuits. I will remember to keep these things safe. Asa
▷People who stayed at the company overnight to deal with the disaster ate hard-dry biscuits for all three meals and had to wipe and clean themselves in the washroom (Hard-dry biscuits were surprisingly delicious).
▷I realized that there was more food in the house than I thought.
▷Candles on the wedding cake we stored for over 20 years, ←the gigantic ones!! They did an amazing job. Our bond as husband and wife was revitalized!?
▷Because of the disaster, the subway had stopped working, and I couldn't go home, so I stayed at my parents' house. There was a three-hour wait at the shopping mall nearby, and every day, we went separately to go look for food. We lived using candles. When I saw the newspaper for the first time in a while, I saw the photos of the tsunami, which made me stunned…we gathered canned food together and ate them.
▷The first thing I ate was a piece of candy and a rice ball the size of a ping pong ball. At the shelter, I received a bag of miso-pan (hard-dry biscuits), and I was so happy! →Still, there was no water, so I had to chew it many times to swallow it. (Ishinomaki)
▷Our house also used candles as the light as we had meals. I remember we could see the starry sky outside really well, which was beautiful.
▷I was working at a hospital, and the hospital was accepting a patient from Fukushima, so I stayed overnight. The staff who came with the patient didn't have anything to eat, so I gave bread and rice balls that our staff had bought. What goes around, comes around. (Saitama)
▷At night on March 11th, I used the gas stove to cook porridge with some ingredients. It was pitch-black, and I had no information, so I felt anxious, but feeling full somehow made me feel happy. I think, whatever happens, the first thing you need is life, and the second thing you need is a meal.
▷I ate snacks, canned food, and other food that I had bought and stocked at home. I never went to receive an emergency meal. Endure, endure.
▷My friend had given me some hard-biscuits during a stayover "just in case," and that helped me so much. Other than the food, I put a large candle in an empty can and used that as the light. (It was nice I received a large candle as Ohigan was coming up.)
▷I used this candle in a classroom of an elementary school we took shelter in. Other people that were there said this light made them feel at ease, so we all looked at this light and endured the fear of aftershocks.
▷(An illustration of a candle warming up a pot) every day, our house placed candles from the Buddhist altar, pot, water, and a stand (gotoku). I placed six candles and put plates and an oval tray + soup, and we lived like that for about 13 days.
About sticky note comments
People from many different backgrounds visited this exhibition, including people from Sendai City, as well as people from everywhere, including coastal areas, inland areas, inside and outside of Miyagi Prefecture, and inside and outside of Japan. There were also both adults and children, and these people left comments on sticky notes about what they remembered from seeing exhibited photos at the time of the disaster. Here, the original text comments that were left are posted without editing. Also, English text in gray are translations of Japanese texts.
Original Photo
"People Start Lining up for Sendai Asaichi (Morning Market) from Early in the Morning" *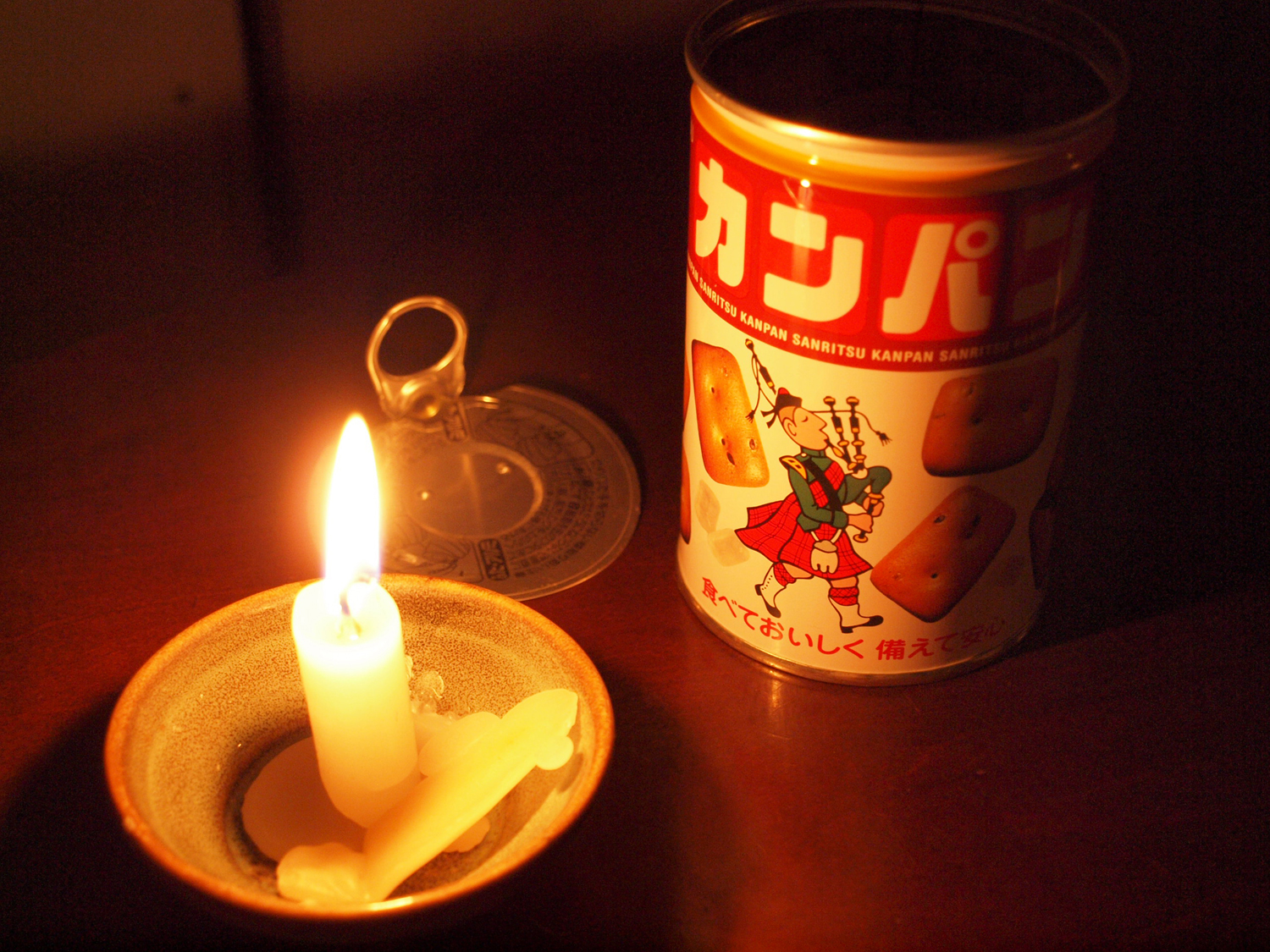 March 11th, 2011
at home in Aoba Ward, Sendai City, Miyagi Prefecture
Recorded by: TAKAHASHI Reona
*Source:
Photo Collection "3.11 Record of Memory—3.11 Disaster that Citizens Took as Record of Memory—"
Issued and provided by: 20th Century Archive Sendai
You can read the episode of this photo and the record keeper from the following page.
[Photo and Article] A Look into Sendai City from March 11th to April 10th
About "March 12: The First Meal After the Earthquake ––– When, Where, and What Did You Eat?"
The project is a participation style exhibition that exhibits photos of "meals" at the time of the disaster, such as photos related to emergency food distribution, grocery shopping, and people sharing meals at a table. Visitors were free to write sticky notes about what they remembered after seeing the photos and how they lived at the time. This exhibition was planned collaboratively by 3.11 Archive of Memories (at the time, called 20th Century Archive Sendai) and the center for remembering 3.11 (recorder311).
Please check out the [INDEX] page for the summary of each exhibited panel and utilization/application examples.
Recorded on
11 March, 2011
Recorded by
TAKAHASHI Reona
Recorded at
Aoba Ward, Sendai City, Miyagi Prefecture
Series