Ogatsu Journey, Part 1: "Beyond the Mountain Pass, Neighborhoods of Ogatsu Slate" A Journey of Coastlines and Mountain Passes
A Journey of Coastlines and Mountain Passes
This article was translated by Yiyang (Ian) ZHONG, Jamie DING, John CARLYLE, Julie EMORY, Jung hun CHEON, Kenzo STURM, Linnea PEARSON, McKenna STRICKER, Minnie THOMPSON, Rebecca LEVEQUE, Tyler FRAGIE, Cindy XU, and Yen-Han NGUYEN. This collaborative translation was part of an advanced Japanese language class at the University of Washington taught by Justin JESTY.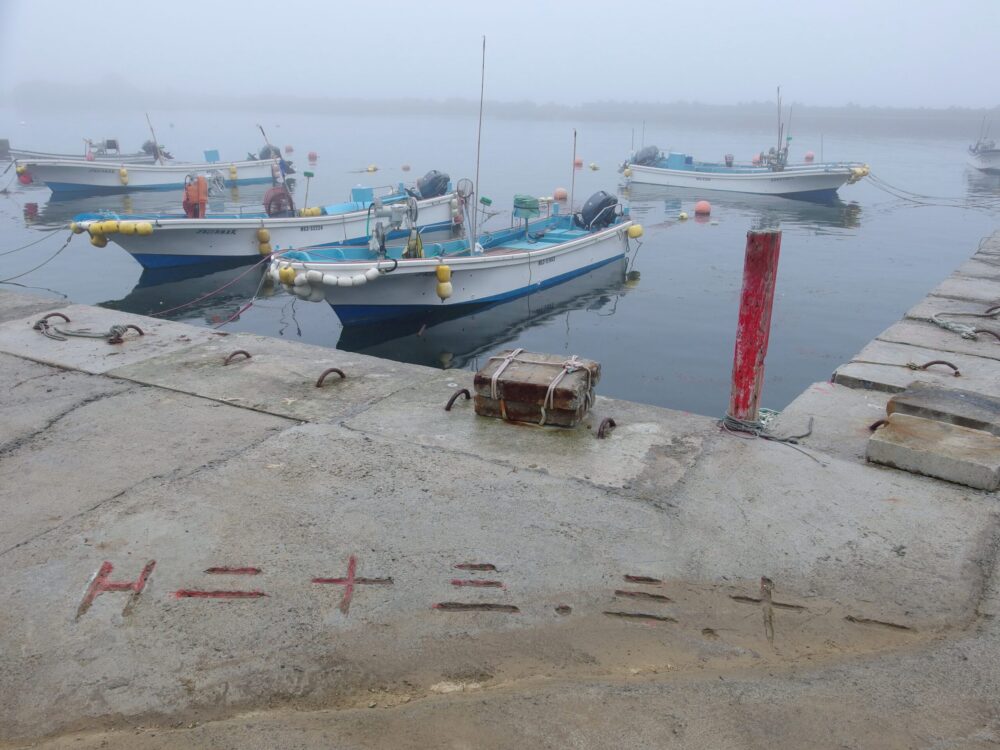 Introduction
If you walk along the coastline looking out over the distant, raging waves, your path will soon begin to follow a steep climbing road towards a mountain pass. Taking a trip through Sanriku, edged by its ria coast, is an unavoidable repetition of this journey. In Sanriku you cannot give yourself over to walking along an easy flat road. And from a certain perspective I see this as echoing Sanriku's journey through history, overcoming major disasters time and again.
Thanks to the people in charge of "recorder311," I have been given the opportunity here to share some personal photos that I took of Sanriku's coastal areas. Originally these were photos I took without any intention of showing anyone. They are mostly unassuming scenes I snapped while traveling for work. I should add that as a long-time Sendai resident, people who actually live in these towns or lived in them in the past might be displeased with my writing and photos and point out mistakes, or think no, their hometown is nothing like I describe it at all.
Nevertheless, I wanted to invite people to see these photos because I have a great sense of urgency about how dramatically these coastal areas have changed since the Great East Japan Earthquake. I am making them public with the hope that showing how things looked before and after the disaster in the towns that came to be labelled "disaster areas," might provide an opportunity to question how recovery has been handled and what the communities look like today, and that that might push back against the public discourse that has been so animated by the prospect of hosting the Olympic Games, once billed as the "Recovery Olympics."
Being aware of how surprisingly few records survive of the now-lost pre-disaster townscape, I also wanted young people of the future to know at least a little about what things used to look like -- even just one more photograph might help.
The scenes from before the Great East Japan Earthquake reproduced here are actually scenes of life that people had reclaimed through bitter struggle, overcoming the tragedies of their own times: the Meiji Sanriku Tsunami, the Showa Sanriku Tsunami, and the Chilean Earthquake and Tsunami. I share these photos, poor though they are, with my heartfelt respect for everyone who continues to keep the flame of life alive in Sanriku with their indefatigable spirit.
Ogatsu Journey, Part 1: "Beyond the Mountain Pass, Neighborhoods of Ogatsu Slate"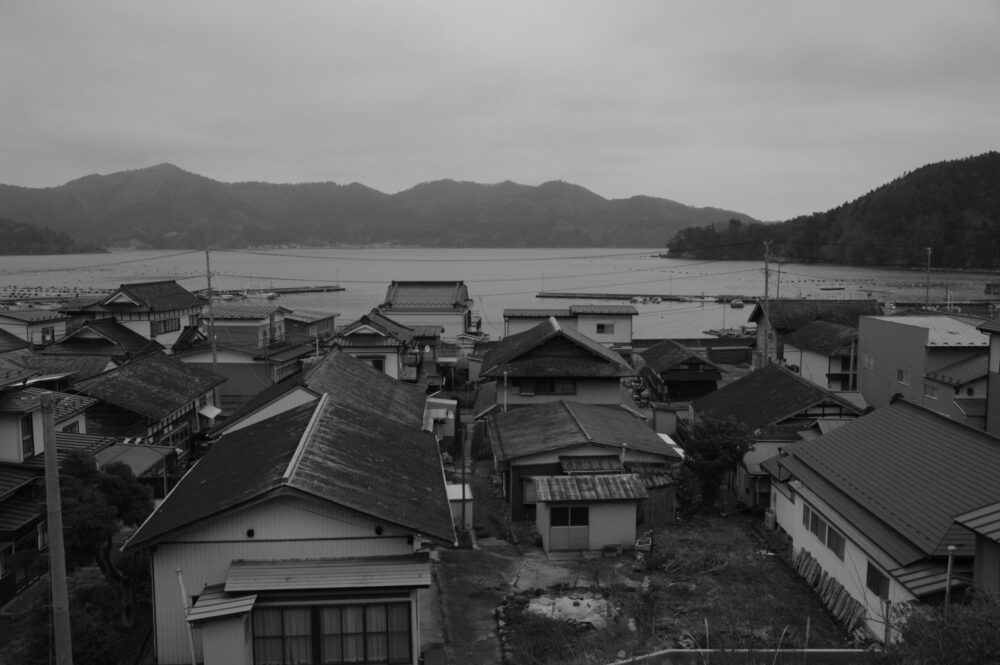 Ogatsu Town, Mizuhama (February 2010)
The town of Ogatsu that I introduce now is one of these towns, surrounded by mountain passes. The passes are high and steep, so if you are coming from Sendai you must take one of two detours, by going down to the mouth of the Kitakami River and then crossing Kamatani Pass through a long tunnel, or by taking Route 398 north to Onagawa. There is also a road from Ishinomaki City over Mount Kenjō (Prefectural Route 192), but it is very treacherous and was not used much even before the earthquake.
Although it is called Ogatsu District, Ishinomaki City today, it was an independent municipality called Ogatsu Town until they chose to merge in 2005. Aquaculture, mainly scallop beds, thrived in the quiet waters of Ogatsu Bay and the catches from offshore fishing grounds were plentiful. Above all else, Ogatsu inkstones made from the Ogatsu slate that the region produces, are a premium product touting a six hundred year history back to the Muromachi Period. They were designated a traditional craft by the national government in 1985 and now boast a place among the highest quality goods. Since modern times Ogatsu slate has also proved useful as a roofing material and has been used for all kinds of public buildings across the country, including the original Tokyo Station building and the former main building for the Ministry of Justice.
In the coastal areas neighboring Ogatsu and the inland areas near the Kitakami River, Ogatsu slate has been widely used as a roofing and wall material even for ordinary homes. In the central part of Ogatsu before the earthquake, many slate buildings stood along the streets, and the fish scale-style roofs and walls created a unique townscape that couldn't be seen in any other region. Just walking around looking at them was a fun day trip for me.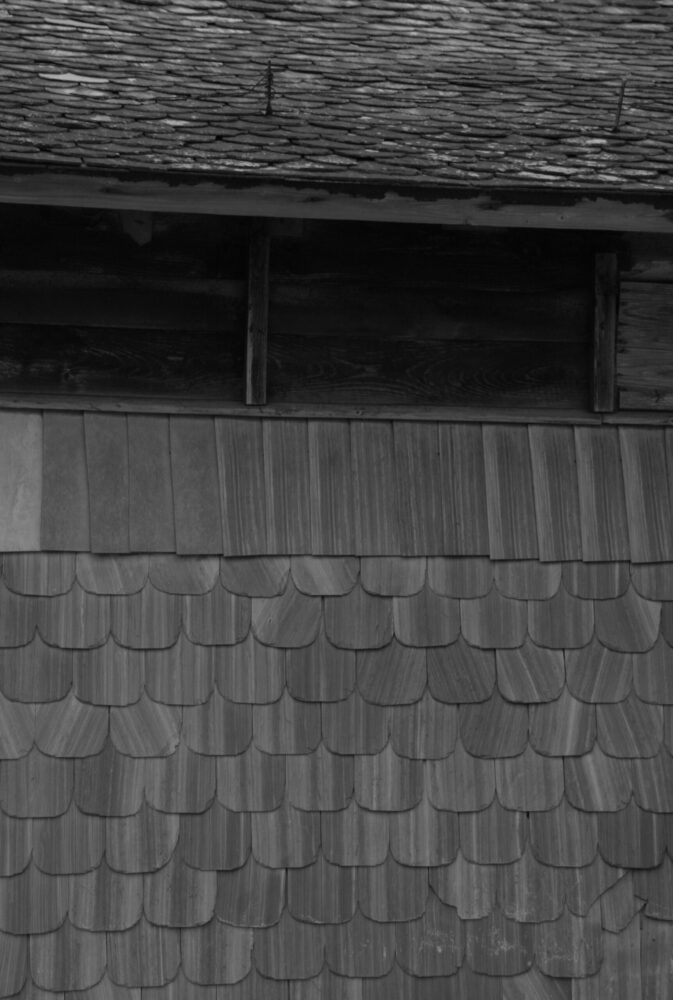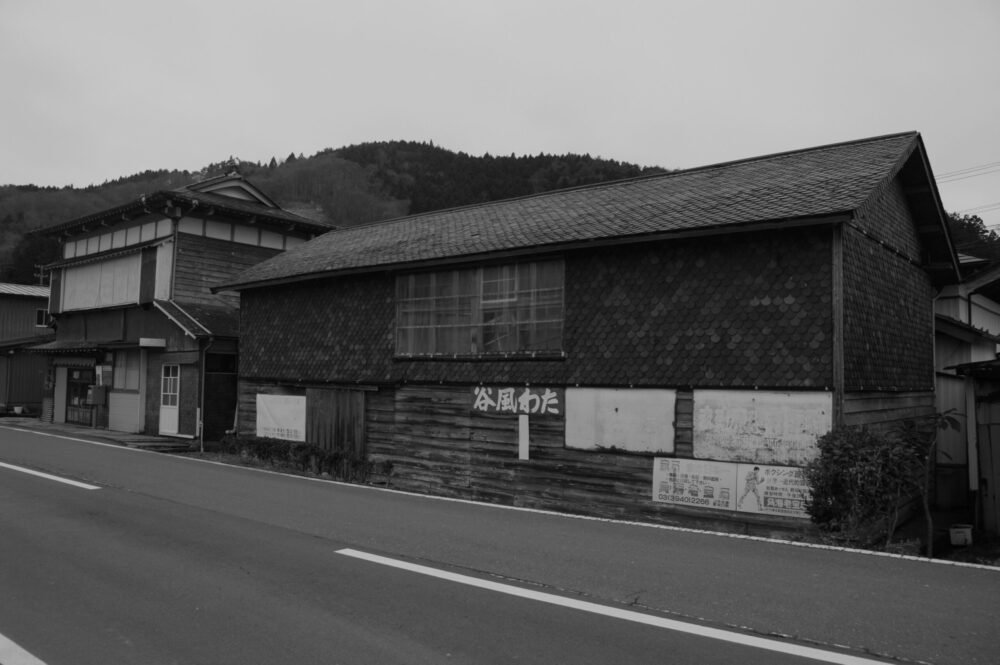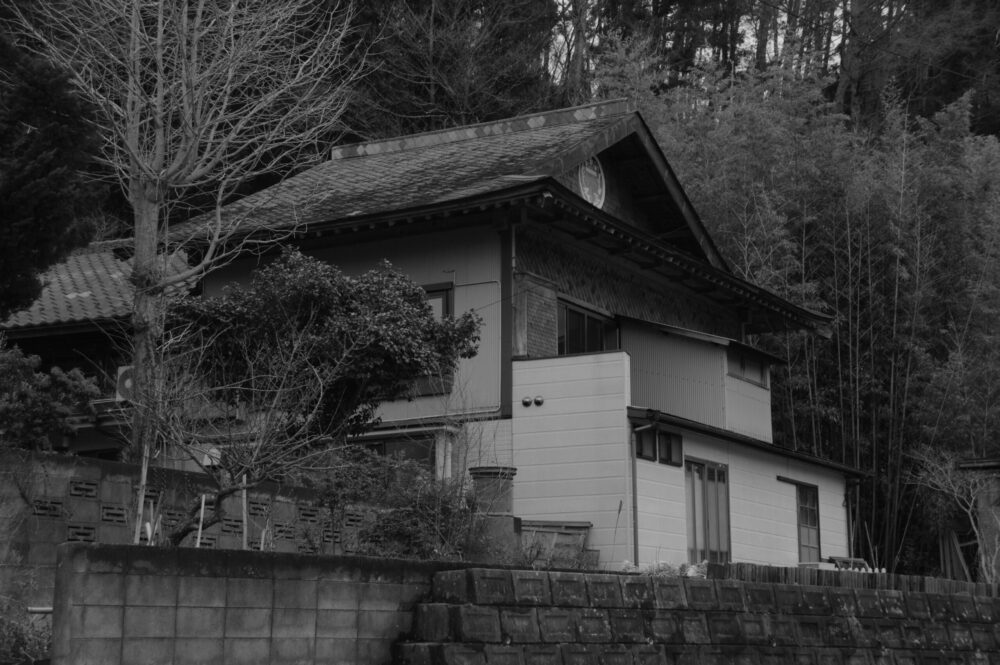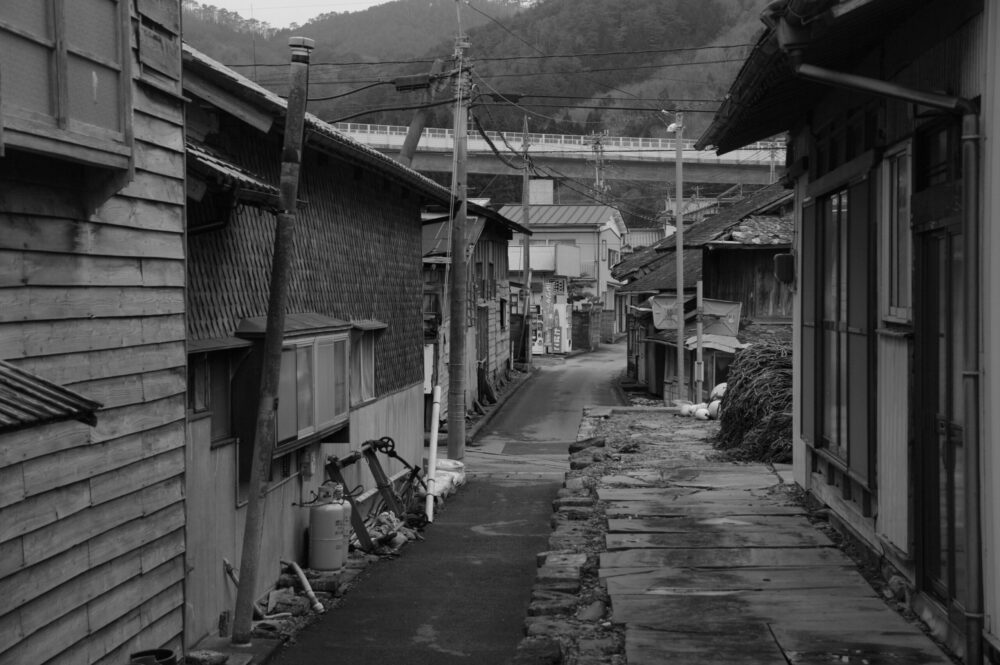 To be honest, the first time I visited Ogatsu Town I was very surprised to find out that there was such a lively community on this stretch of coast surrounded by high mountain passes. In the town center stood a seafood processing plant, along with a hotel, restaurant, bank, hospital, supermarket, and convenience store, and I remember there were many people getting on and off the bus from Ishinomaki, even in the evening when the sun was setting over the mountains. Ogatsu was filled with a light of life that was quintessentially Sanriku. Lured back by the scenery, I started to visit Ogatsu outside the visits for work as well.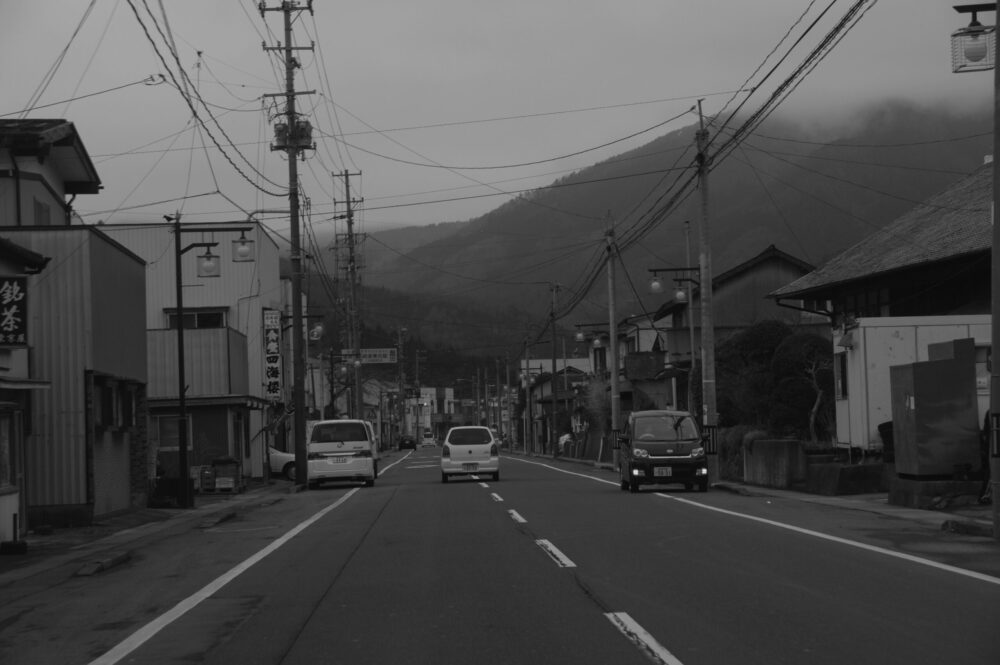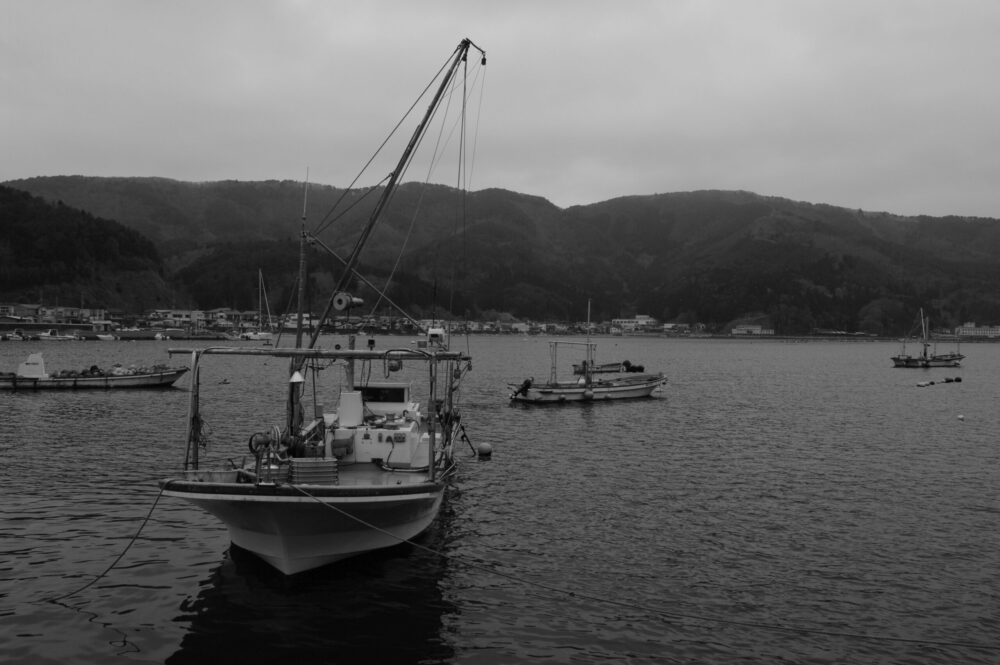 Town center of Ogatsu (February 2020)
Ogatsu Journey, Part 2: "Beyond the Mountain Pass, a Slow Recovery"
Ogatsu Journey, Part 3: "Beyond the Mountain Pass, Life Continues"
Recorded on
2010
Recorded by
KUDŌ Hiroyuki
Recorded at
Ogatsu Town, Ishinomaki City, Miyagi