March 12: The First Meal After the Earthquake / This Floored Me More Than When I Felt the Earthquake at My House
March 11 Fixed-Point Observation Photo Archive Project Open Salon at theThinking Table. May 26, 2012
This article was translated by Yiyang (Ian) ZHONG, Jamie DING, John CARLYLE, Julie EMORY, Jung hun CHEON, Kenzo STURM, Linnea PEARSON, McKenna STRICKER, Minnie THOMPSON, Rebecca LEVEQUE, Tyler FRAGIE, Cindy XU, and Yen-Han NGUYEN. This collaborative translation was part of an advanced Japanese language class at the University of Washington taught by Justin JESTY.
Narrator: OSHINO Midori
Interviewer: SATŌ Masami (NPO 20th Century Archive Sendai)
■The Collapsed Zuihōden Okosama Gobyō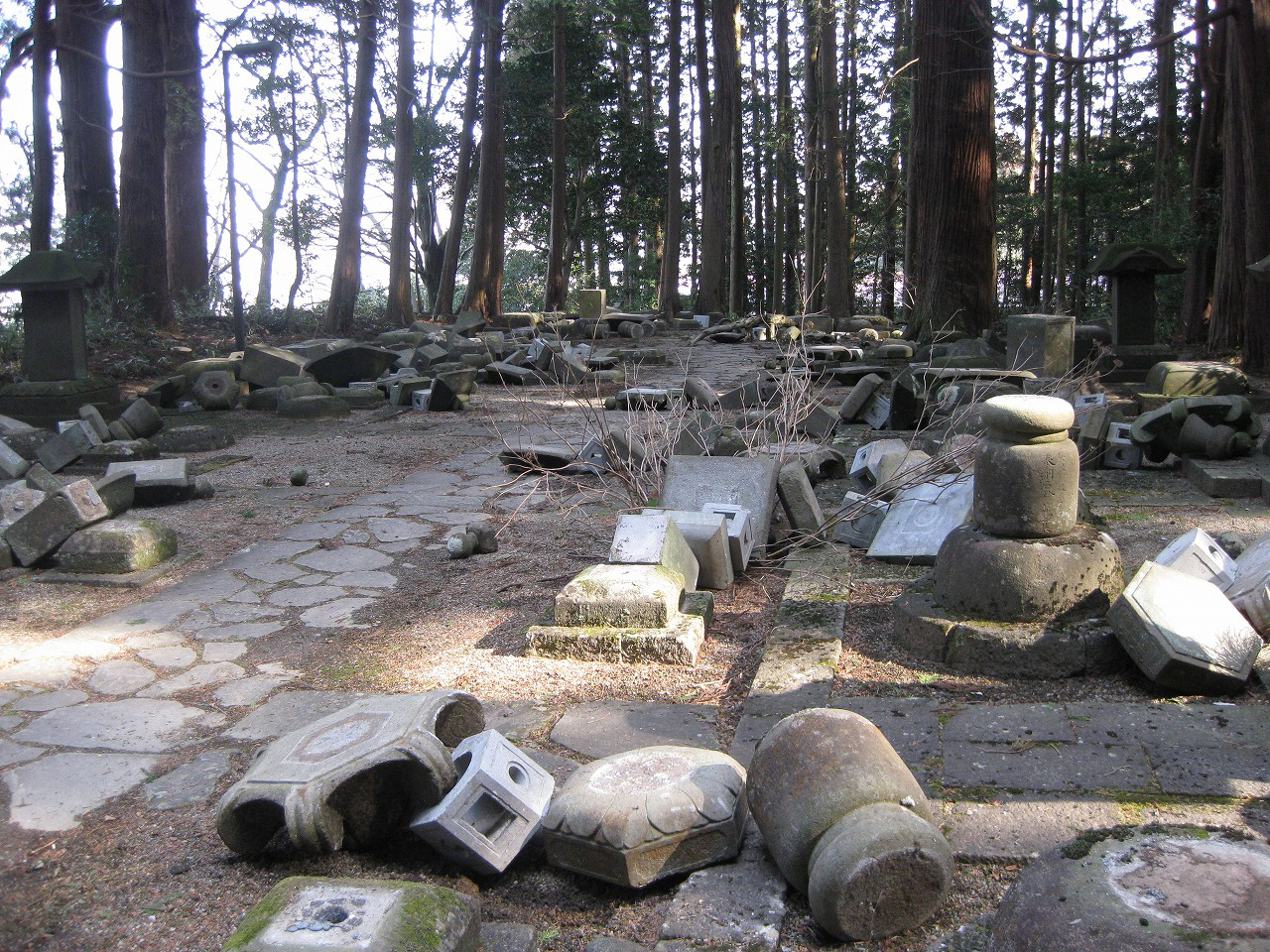 Photo caption: March 13, 2011 Zuihōden, Otamayashita, Sendai City, Miyagi Prefecture
[OSHINO:] I'm a big fan of Lord DATE Masamune and I'm a groupie of the Date Warlords Oshū-Sendai Hospitality Group [Note: a Sendai/Miyagi tourism booster PR group]. This first photo is of Zuihōden's Okosama Gobyō mausoleum. At the top of this hill to the left is Zuihōden but here to the right is Okosama Gobyō, the grave of the lord's child. Almost nobody is there during the day—frankly speaking it's not a place I'd feel safe going by myself as a woman—and there are a lot of stone lanterns lined up there. All of them completely collapsed with pieces of them strewn everywhere. I guess it was shock, but when I saw this all the strength went out of my legs and I was floored. Even more than when I felt the earthquake at my house, this is what took the wind out of me.
[SATŌ:] That sounds just like you.
[OSHINO:] Well, at the moment I saw it I had no idea how they were ever going to fix it. Now it's all been beautifully restored to its original condition.
■Plantings that Fell in the Same Direction as the Wall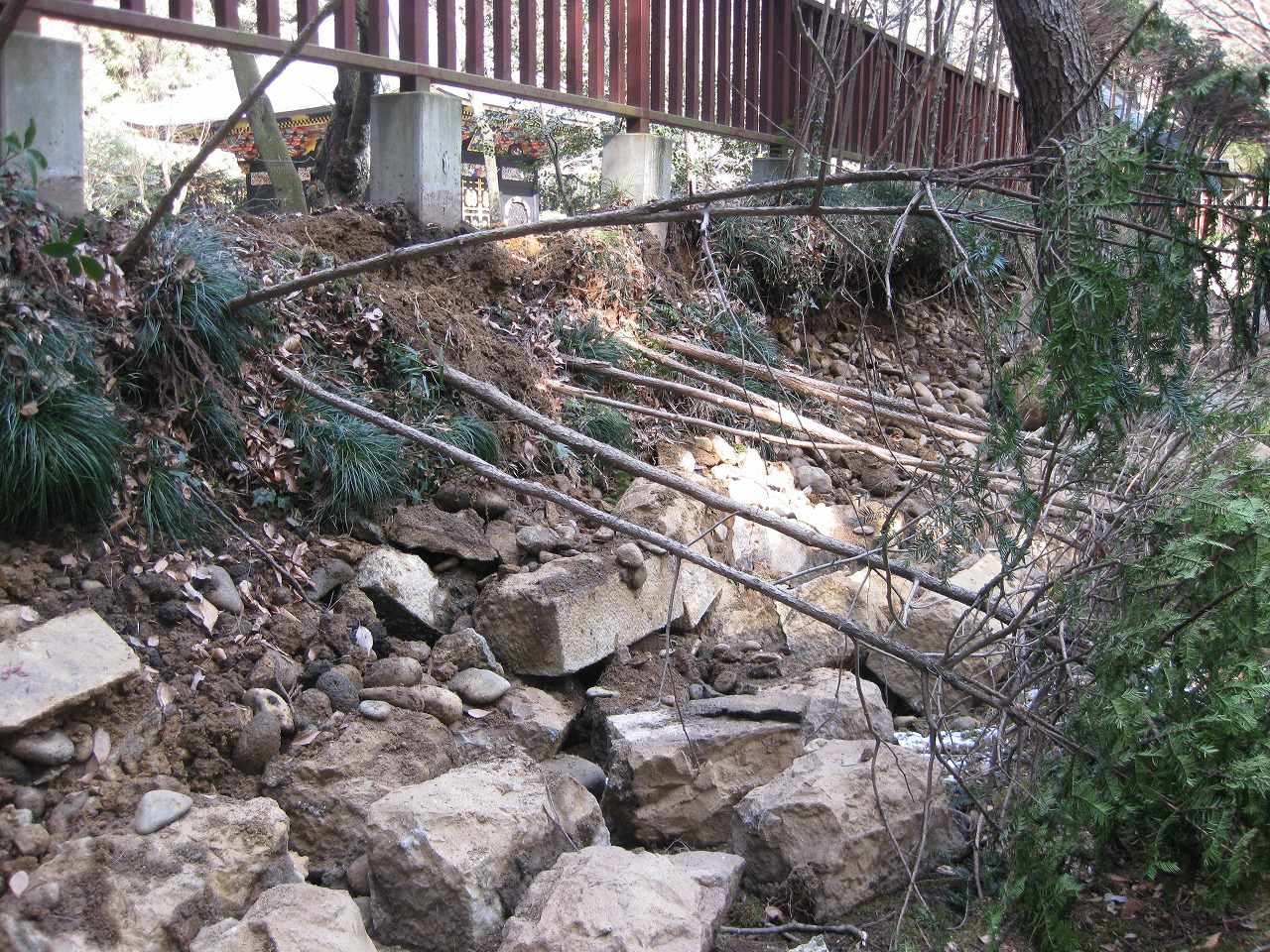 Photo caption: March 13, 2011 Otamayashita, Sendai City, Miyagi Prefecture. The stone wall in front of Zuihōden, Kansenden, and Zennōden
[OSHINO:] This is a photo of the Kansenden. Behind it is the mausoleum where the graves of the second and third generations of the Date house are. In the background, you can see a kind of fancy-looking building. That has a three-tiered stone wall in front of it, which also collapsed completely along with the trees planted in it, probably in the same direction as this from the swaying. This has also now been nicely restored.
■The Bust Statue of Lord Date Masamune that Fell During the Earthquake Covered in a Blue Sheet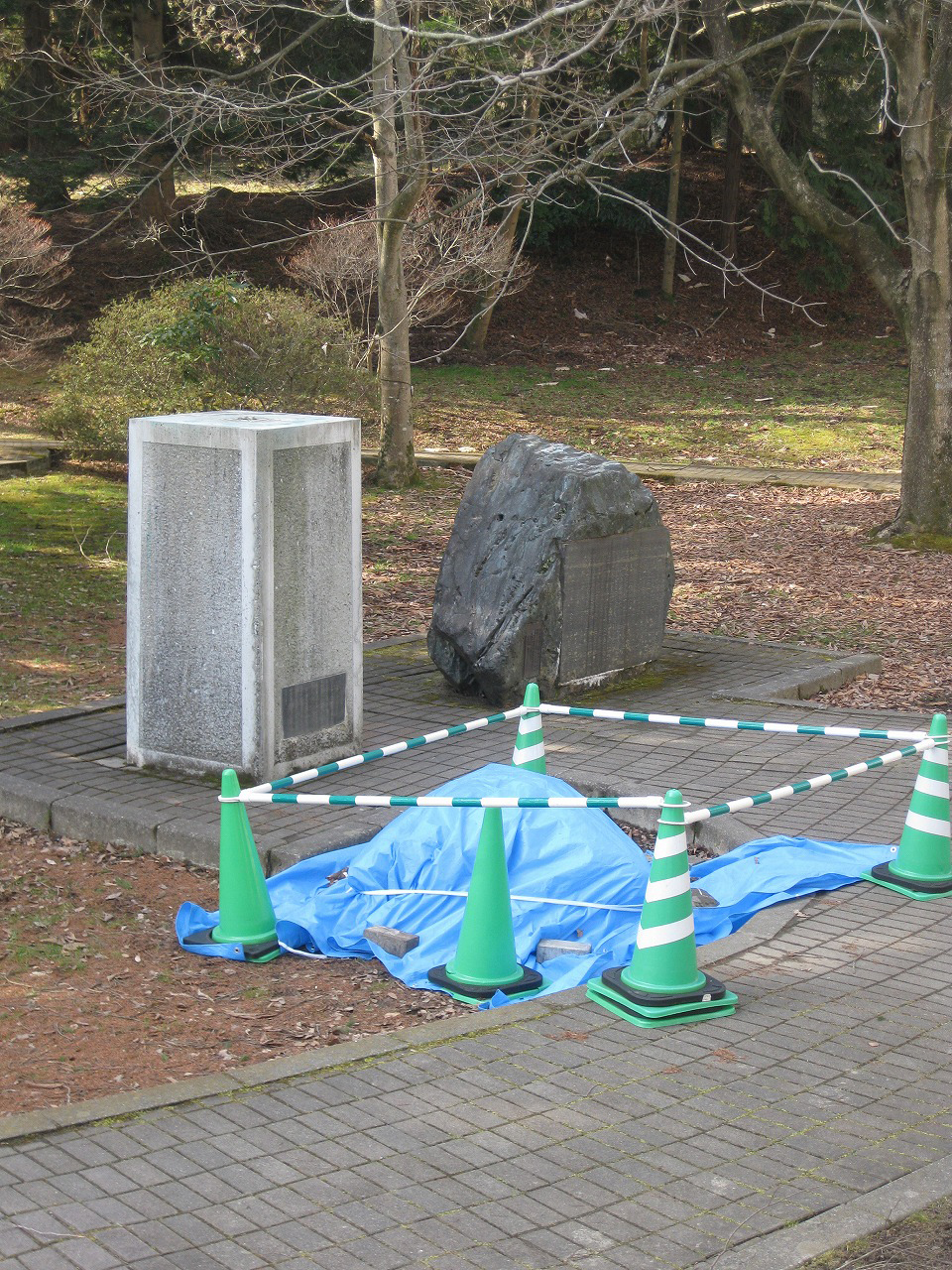 Photo caption: March 13, 2011 Sendai City Museum, Kawauchi, Sendai City, Miyagi Prefecture
[OSHINO:] This is a picture of the first bust of Masamune ever made, located behind the Sendai City Museum. Since the statue is made of iron it was requisitioned during the war. But turning it into bullets was intolerable, so I believe it was some traders from Shiogama who held on to the statue from the chest up and installed it on top of this square pedestal after the war.  And then to have that fall down in the earthquake.
[SATŌ:] So what is under that blue sheet is Masamune's bust? That's certainly intolerable.
[OSHINO:] Indeed. It's him under there. Though I do think it lucky that he fell forward. The area near the right-hand edge of the tarp is slightly uneven. The ground is actually still warped when you walk there now. I think it's because the earth buckled upwards there. Naturally people must have realized that he couldn't be left like that, so the bust returned to its original position relatively quickly.
[SATŌ:] Gosh you're like an expert in cultural assets presenting documentation photographs to everyone. You're like a curator.
[OSHINO:] No, no, no. The people in charge of that would have already taken pictures on the day it happened, I'm quite sure.
[SATŌ:] Was there any damage to it?
[OSHINO:] I couldn't go pulling back the tarp so I didn't get a proper look inside, but since the original is back where it was I guess it might have just had a dent or two. It's in its proper shape now but I don't know how it was then. I suppose they may have had to go all-out to get it back to how it was.
■Cracks Running Across the Ground in the Plaza at Sendai Castle Ruins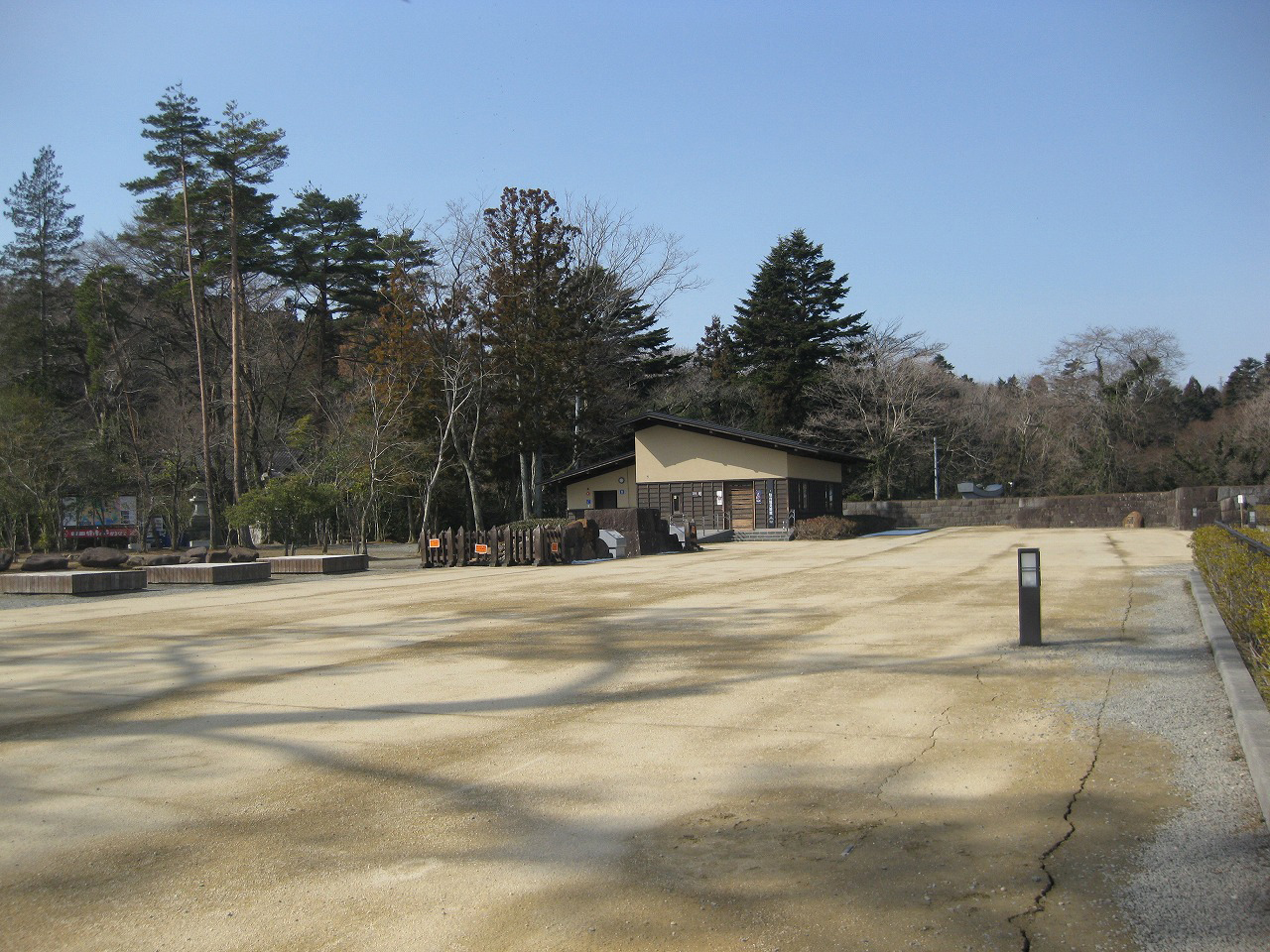 Photo caption: March 13, 2011 Plaza at Sendai Castle Ruins, Kawauchi, Sendai City, Miyagi Prefecture
[OSHINO:] From there I walked all the way up the road behind the museum. The road that Loople Sendai usually runs along was no longer passable. [Note: the Sendai City sightseeing loop bus.] This picture is of the Sendai Castle plaza, the equestrian statue is just off to the left. And from the right side all the way down to the base is a stone wall constructed from carefully shaped square stones. As you can see in the photograph, this area in front has a crack in it. This area has been all cleaned up as well and they finished repairing and replacing all the tiles. It is now paved with a concrete-like substance that is such a dazzling white it's almost unbearable.
■Stone Wall of Sendai Castle in a State of Collapse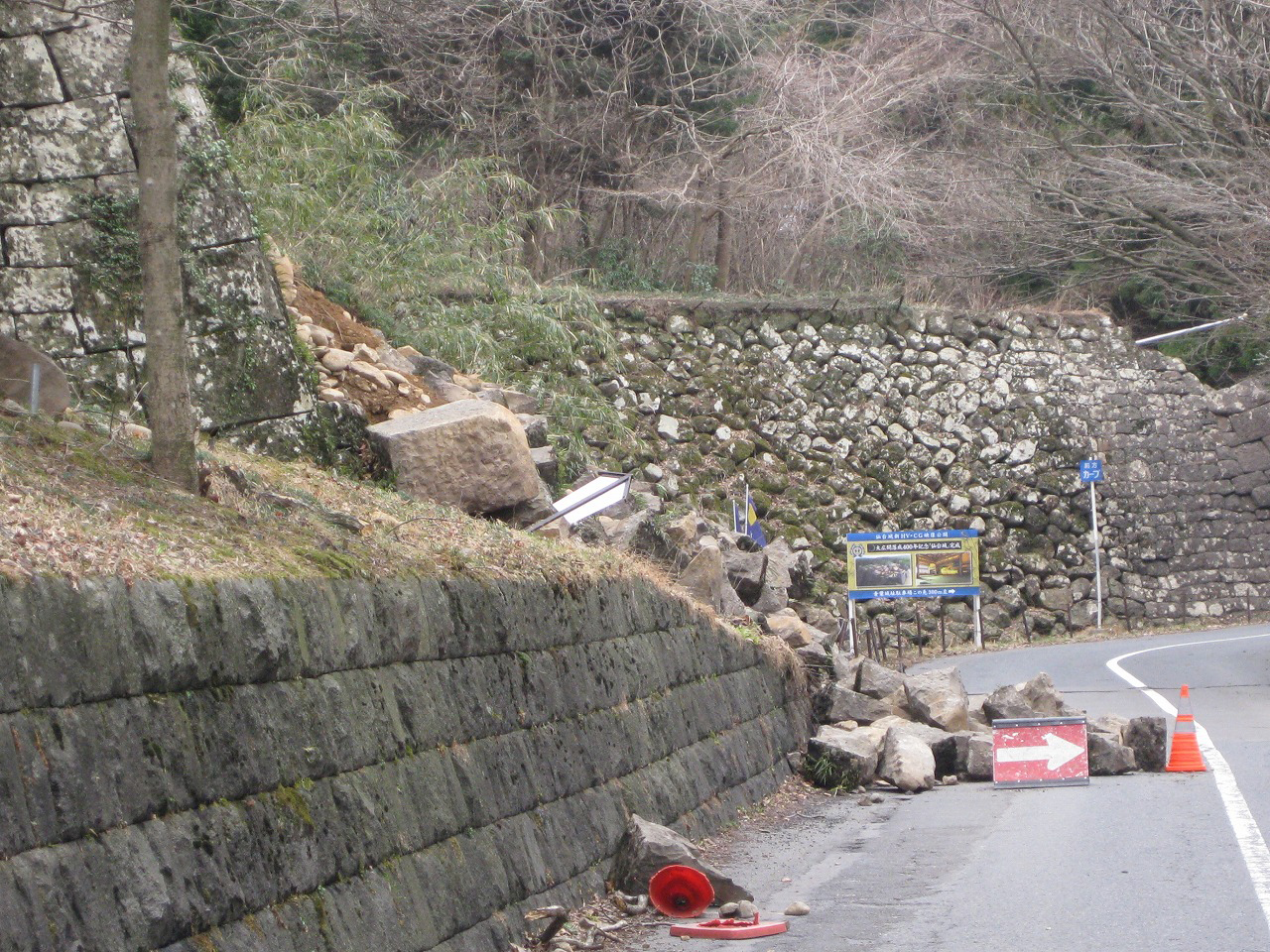 Photo caption: March 13, 2011 Stone wall of Sendai Castle, Kawauchi, Sendai City, Miyagi Prefecture
[OSHINO:] This is the wall on the west side of Sendai Castle where Loople Sendai used to make its loop. These walls on the back side are older and were built with round stones from long ago that weren't hewn, so they collapsed as you might expect. I hear that they're properly researching which stones were laid where as part of restoring it and that it might take around two years to finish.
■The Orthodox Church of Japan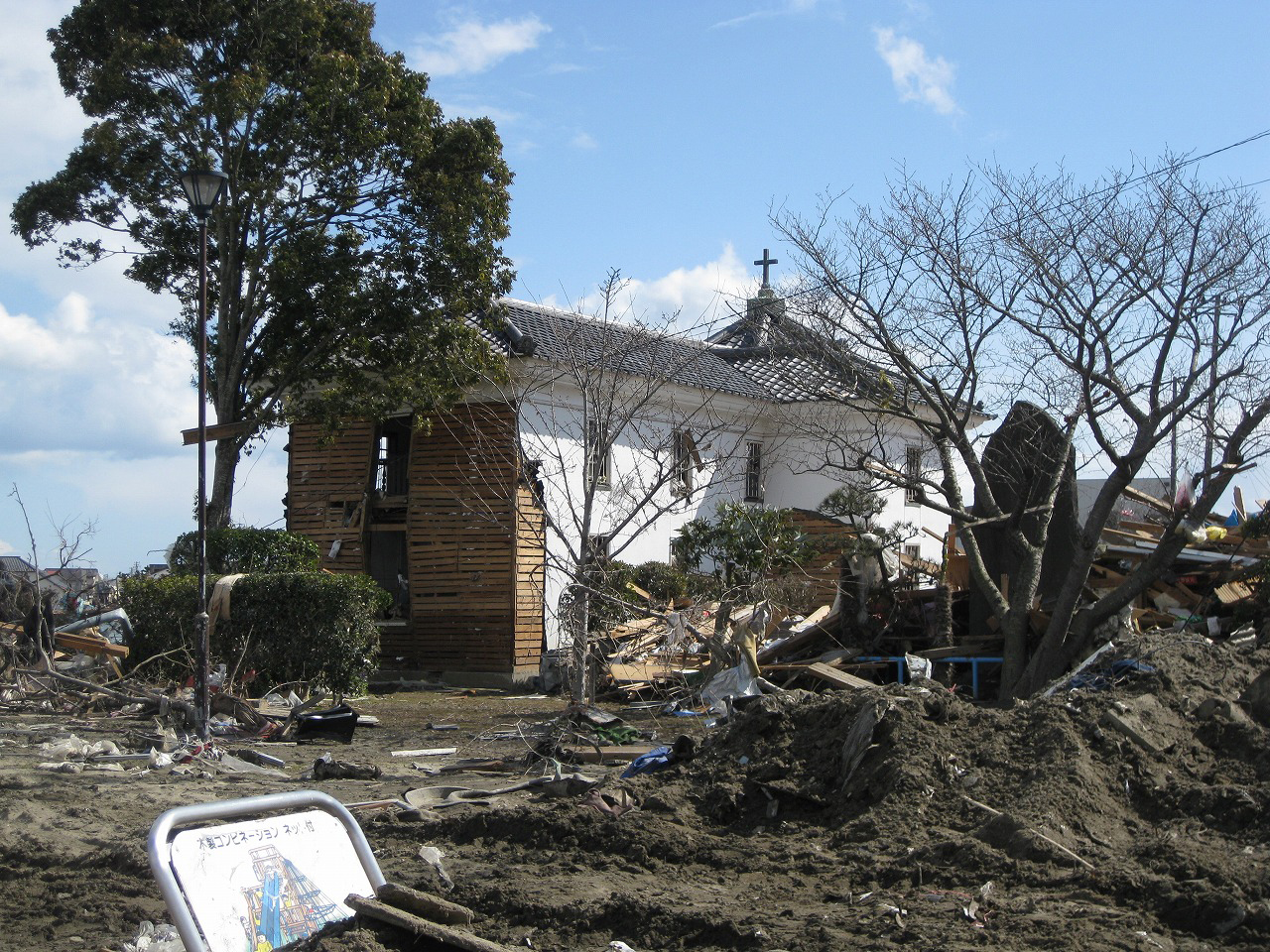 March 27, 2011 The Orthodox Church of Japan Nakase, Ishinomaki City, Miyagi Prefecture
[OSHINO:] This is a picture of the Orthodox Church of Japan I took when I went to see a friend in Ishinomaki. It was a friend that I had met because they liked castles, and while sending messages back and forth on the internet I found out that they had been feeling down, so we all went to meet them together. We set out after lining up for six hours to put gas in the car. Across from the church is the Ishinomori Mangattan Museum, in a place called Nakase on the old Kitakami River. It wasn't only the church but the whole area around there was in terrible shape. The railings and the bridge over the river were all bent out of shape.  I was actually impressed by how well the building had retained its form. Since the building's original form remained in good shape, I think it would be possible to restore it but the ground has sunk down quite a lot. In one of the photo collections, there was someone who took a picture of this church from the front, so I'm interested to see how it is going to be preserved.
■Concert by the Sendai Philharmonic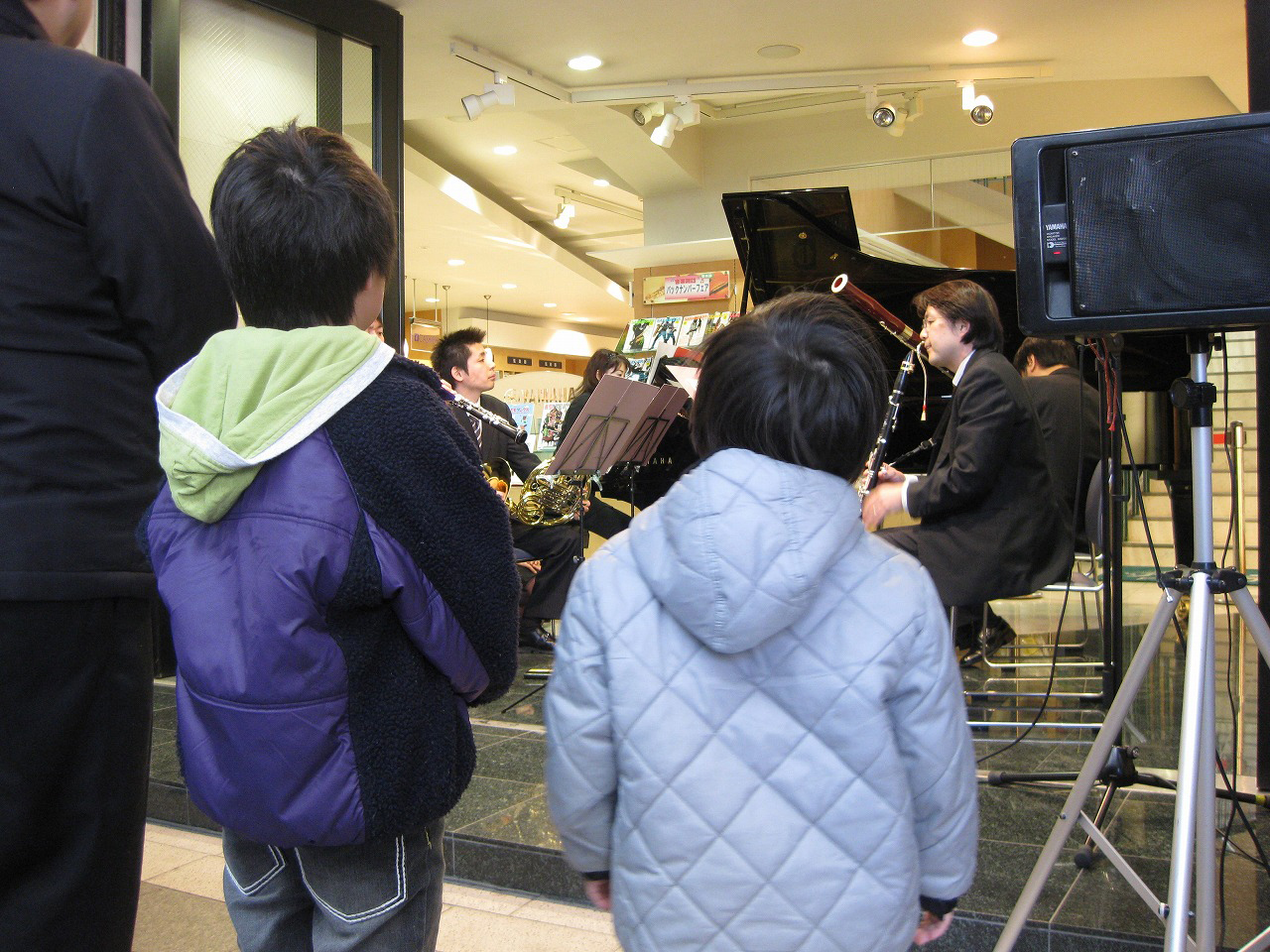 April 3, 2011 Ichibanchō, Aoba-ku, Sendai City, Miyagi Prefecture
[OSHINO:] This is the last photo. The Sendai Philharmonic Orchestra toured various evacuation shelters to play concerts to support the recovery and I'm fairly certain that April 3 was actually the opening day. Here they were performing a piece by Mozart, and the two children standing in front of me were dancing to the rhythm. The Sendai Phil subsequently held hundreds of concerts in disaster-stricken areas, even visiting small shelters to hold concerts with groups of four or five musicians. The venue was full when they restarted their scheduled performances at the youth culture center. I think I'm going to start following the activities of the Sendai Philharmonic from now on as well.
* This article is based on the contents of OSHINO Midori's talk at the "March 11 Fixed-Point Observation Photo Archive Project Open Salon 'Continuing to Watch, the Scenes from that Day,'" held at Sendai Mediatheque's Thinking Table on May 26, 2012.
---
[March 11 Fixed-Point Observation Photo Archive Project]
This project archives citizens' documentation of the circumstances right after the disaster, and the circumstances of the subsequent reconstruction and recovery through periodic fixed point observation in the cities and towns of Miyagi Prefecture that were affected by the Great East Japan Earthquake, in order to leave them to posterity. We continue to gather documentarists from among the citizens, and periodically host spaces for information exchange and other activities in the form of Open Salon. These fixed point observation photos are stored and published in both the 20th Century Archive Sendai and the center for remembering 3.11(sendai mediatheque), as a part of "Records of the Great East Japan Earthquake -Citizens' Collaboration Archive".
website: http://www.20thcas.or.jp/
[Thinking Table]
The Thinking Table is our name for a space where people can get together and share stories, and think about disaster recovery, the regional community, and expressive activities. It is held in the studio on the 7th floor of Sendai Mediatheque. There are a variety of events including talks, public meetings, and activity reports by citizen groups.
Recorded on
March 11 - April 3 ,2011
Recorded by
OSHINO Midori
Recorded at
Kawauchi, Sendai City, Miyagi Prefecture
Series
Keywords