A Look at the Yamamoto Town Hall During the Five Days Following March 11th, 2011
Yamamoto, a town located on the coast of Miyagi Prefecture, suffered 633 deaths and total destruction of 2,217 homes (as of March 2013). The tsunami flooded 24 square kilometers (37.2% of the town's total area).

The following record was created based on a video taken by Sato, a resident of Yamamoto at that time, directly after the earthquake at Yamamoto Town Hall of the situation at the Disaster Response Headquarters and shelter. This article was created with the video material and what he has told us in person.

This is a compilation of videos taken before the morning of March 12th among all videos recorded beginning from 16:00 on March 11th to March 15th, 2011.

The following images are captured from the video in order to create a summary of the events.

■March 11th, 2011
15:55
Heading to Yamamoto Town Hall. Many people evacuating there.


16:04 Evacuees gather at the tents that were set up outside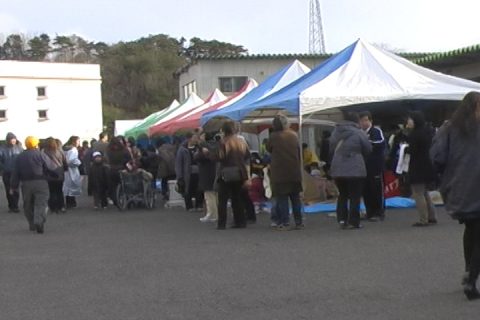 15:56 Disaster Response Headquarters
Due to the town hall being damaged by the earthquake, work was being done on tables outside.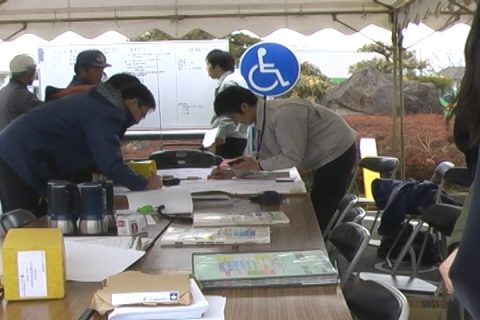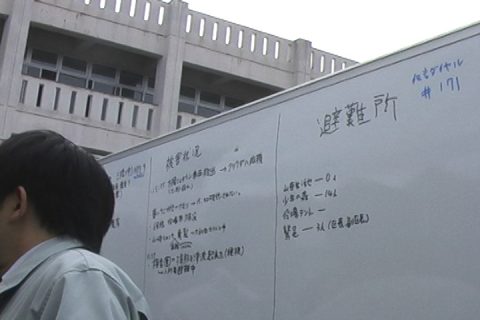 16:11 People looking at the sea and the town from the Yamamoto Town Hall located on high ground.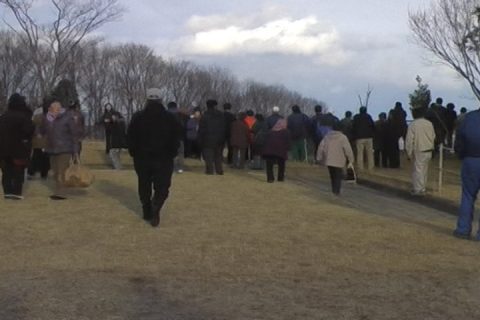 People watching from high ground
A conversation by people who saw the state of the ocean
Female: Our house is gone. The water came up to there.

Male: Huh?

Female: Yeah, over there. You can see it. From there.

Male: From where?

Female: From down there, there's a rice field on the other side of the road, right? Everything is flooded over there. I saw it from above when I was using the bathroom. This mountain here…
16:12 I can see waves.
The town is flooded.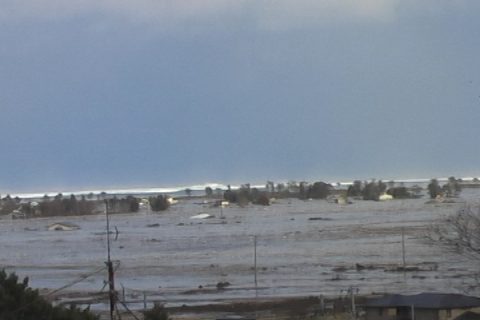 19:13 Sunset, and lights were put on just around the town hall.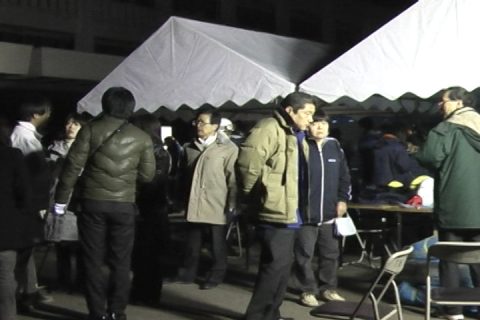 ■March 12th, 2011
05:36 in the morning, a report from the Disaster Response Headquarters.
Everybody listened while covered in blankets and such.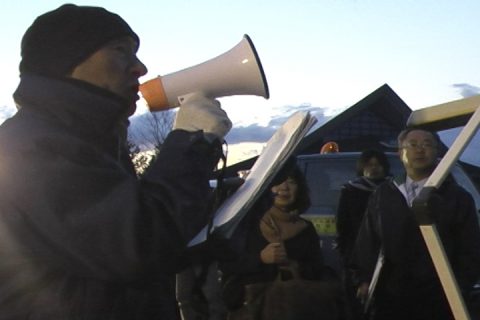 Report from the Disaster Response Headquarters.

Staff: We have 90 people sheltered here, but the water is withdrawing. Right now one of our town staff and the vice-principal of Nakahama Elementary School are surveying the road to Sakamoto Junior High School. If the road is safe, since everyone here is in good condition, we will be moving toward Sakamoto Junior High School.

Follow up report from the Disaster Response Headquarters.


Staff: This morning, we have heard that fire department from other prefectures such as Aichi will be coming to our aid. Meanwhile, at 5:30, according to one of the town hall staff and the vice-principal of Nakahama Elementary School, there are around 90 people sheltered in the Nakahama Elementary School, among whom are many children. We have heard that if the two staff are able to confirm the safety of Sakamoto Junior High School, since the water is withdrawing, the children will also move toward there.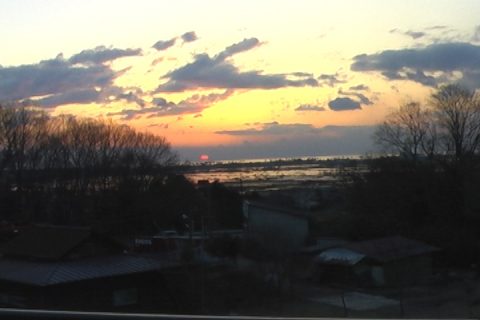 06:11 Information since the earthquake were written chronologically on the white board in the Disaster Response Headquarters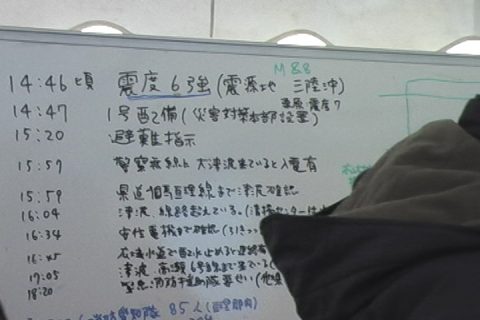 14:46 Earthquake Intensity 6-Upper (Epicenter Off the coast of Sanriku, Magnitude 8.8 at Kurihara Intensity 7)
14:47 Arrangement One (setup of Disaster Response Headquarters)
15:20 Evacuation order
15:57 Major tsunami incoming alert from the police radio
15:59 Confirmation of tsunami at Soma Watari prefectural road
16:04 Tsunami crossing the road (approaching the sewage treatment center)
16:34 Confirmation of tsunami at Azumi Electrics (water withdrawing)
16:45 Contact about stopping the regional water supply
17:05 Tsunami coming up to Takase route 6
18:20 Emergency request for fire department and rescue team

07:34 First food distribution for the cameraman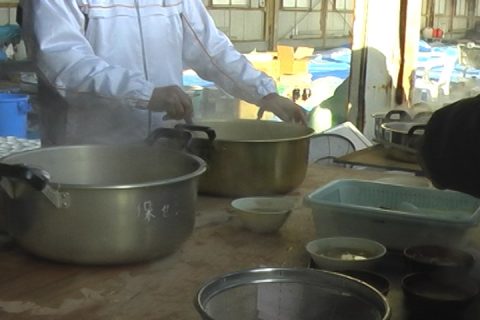 08:28 Due to a shortage of chopsticks, everyone ate with only one chopstick.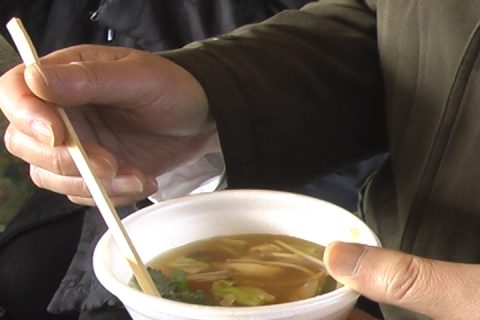 10:10 Many people came to watch the sea and the town during the day.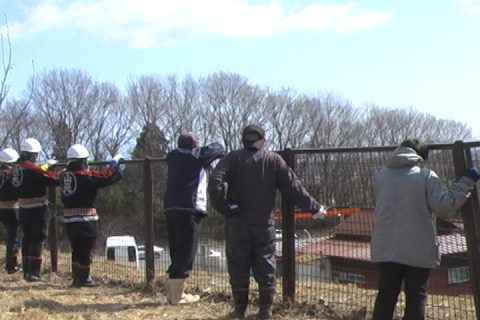 10:11 The seawall could no longer be seen and the pine forest became scattered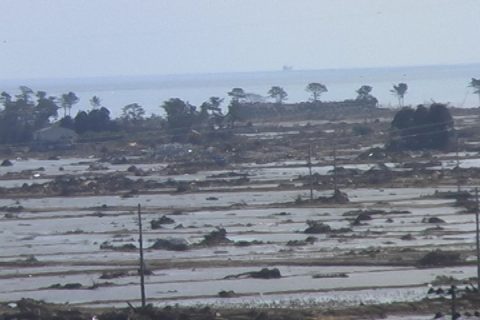 10:21 The town hall was not damaged by the tsunami due to its location on the high ground, however, it did suffer damage from collapsing and sinking ground.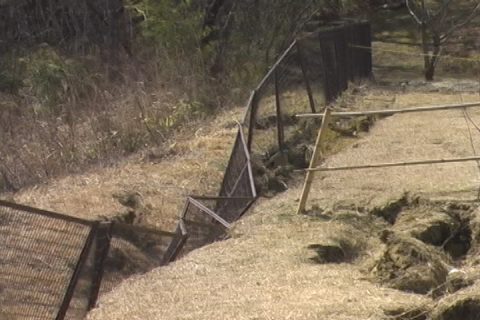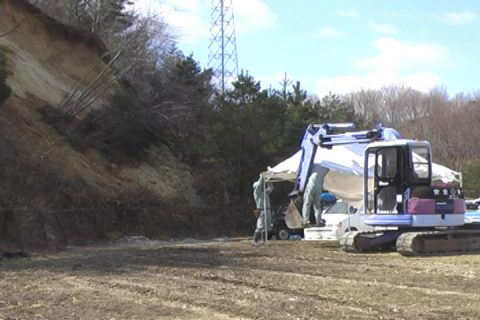 10:33 Roof tiles on a house fell off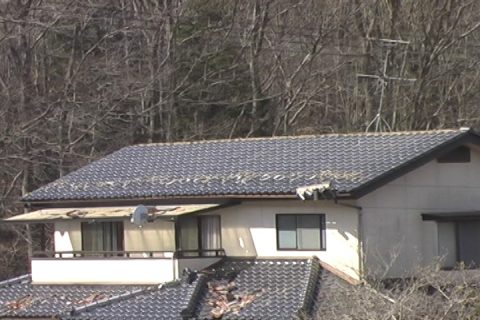 ■March 13th, 2011
The cameraman talks with people resting on the bench
Male: Yeah, I went to Gakudo. And the rail was messed up. It's lost its shape. There were only like three houses remaining. And if you look to the south from Kasano, how do I put it, everything's gone and turned flat. Only smoke can be seen at the power station (Soma Kyodo Karyoku Hatsuden Ltd. Shinchi Power Station). The north side, by comparison, looked a lot better.

Cameraman: From here only traces of the seawall and the trees can be seen. Is the seawall broken?

Male: The seawall's done for.

Cameraman: Done for… Do we not know where it is broken?

Male: It's gone. You could see the sea directly. Regardless, it's very troubling.

Female: That's terrible.
07:12 A male volunteer shared an announcement from the headquarters to people lining up before food distribution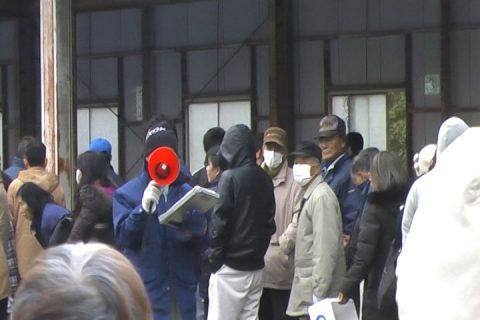 Male volunteer informing people of announcement from the headquarters
Male volunteer: They already arrived and have been rescuing people starting this morning. The Nagoya Fire Department, Japan Self Defense Forces, police department, and the volunteer fire department has been working together on the rescue operations. The water has not withdrawn, and there are a lot of driftwood on the road, so they can't make much progress. They have been cutting down trees and advancing to the east. It is an extremely difficult task. Following that, Route 6… hey you dropped something. Please do not go east past Route 6. We have to focus our effort on rescues. Mainly, we plan to perform rescue tasks around the railway going east.

We have added temporary toilets. There are six on the south of the Archive Hall, and six on the west of the Civic Hall. We are attaching water supply to them now. Please feel free to use them after we're done. Thank you for your cooperation.

11:10 People exchanged all kinds of information at each room in the shelter, such as announcements from the Disaster Response Headquarters.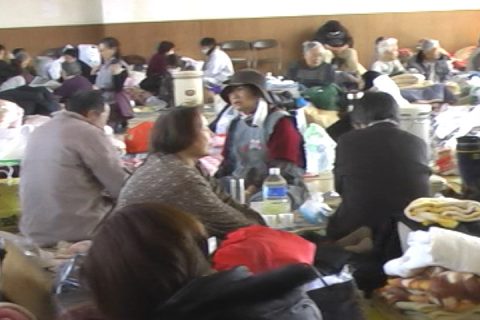 13:32 Fewer people were coming to check the announcements than before.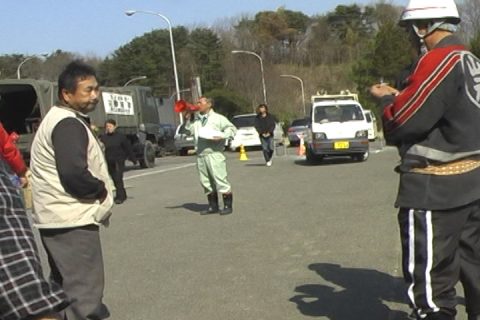 11:26 A road slightly away from the town hall.
The road was protruding out.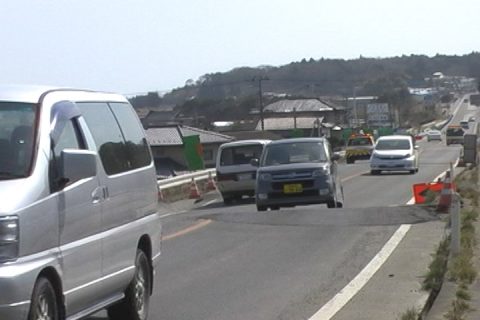 11:57 Looking at the town, water had withdrawn slight compared to before.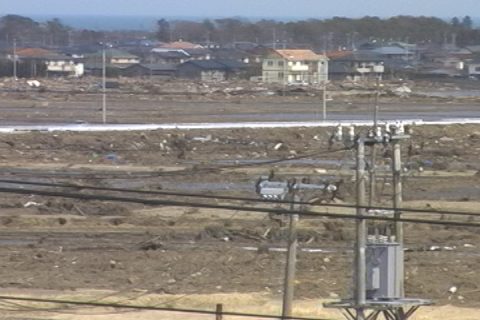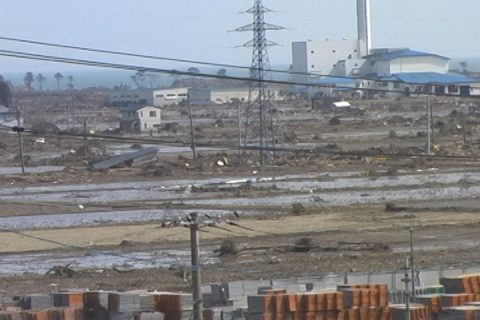 ■March 14th, 2011
Announcement in a room


Male volunteer: Announcement from headquarters. We have gained some cellular connections. However, I suspect that your cellphones don't have much battery life left. Therefore, if multiple people connect to the same cell tower, those with more battery might be connected first. This is our announcement that some cellphones may become usable.

Following that we have a sad news. According to the announcement from 9:30, 640 people have lost their lives in this prefecture. And 2000 more have gone missing.

And regarding the roads. A detour was needed to go from the fields to the eastern streets in order to go around the jam until last night. Starting from 9:30 this morning, the road is cleared. And parts of the roads in Shinchi are usable on one lane.

This morning, water trucks have arrived from Fukuoka. The JSDF has also arrived. We should now be able to supply each evacuation shelter with enough water. I mentioned 27 hours this morning. However, it seems that on their way from Fukuoka to here Yamamoto, they went for 10 hours before taking a nap. And it took another 27 hours from their resting place to here. So in total it took the volunteers around 40 hours to deliver us those water. Please keep in mind that they have come all the way for us.

Some people talked about stamps. The Yamashita post office is closed. The Nakahama one is closed as well. The one in Hamayoshida is closed too. It seems that at XX, they have been dealing stamps, but they are also closed. Right now the only place we need to confirm is the Watari Post Office. We asked the police officers and it seems that those stationed near Route 6 can get to the Watari Post Office from their location. However, if that post office is closed too, going there would only be a waste of gasoline. Please wait a little longer. Regarding pharmacy, the one near IYOU, Suzuki Pharmacy, and Takeda Sakana are open today.

These were the announcements from 10:30. Most importantly, don't go east past Route 6. And there has been car thefts so please lock your cars.

13:21 People were looking at the bulletin board for information.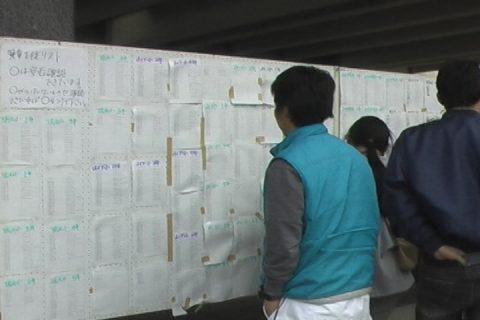 14:44 Reports of a rescued couple today.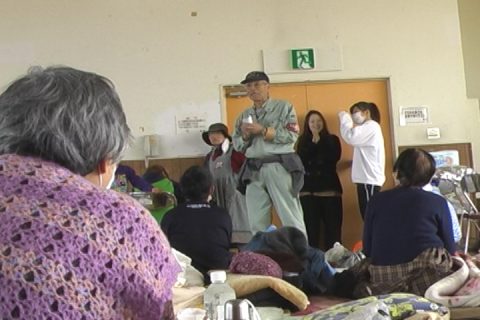 Report from survivors
Conversation of people resting on the bench
Male A: You know the water started to withdraw after that. Then it was so cold. I was shaking when coming here. The water was up to here (hand showing water level up to his chest). I was planning on going north but ended up going south.

Male B: I thought I was swimming to XX, but was actually going that way. We didn't know where we were going.

Male A: The car in front of us had its doors open slightly. So they let us in and we spent the night on the second floor. I thought it was strange. No matter how much I think about it, XX's house wouldn't flood like this. Takao was also there so I thought it wouldn't come this close. I thought about that many times. And I just couldn't understand. When the morning came, I looked and there were the house painters. I think they were those who paint the houses. I talked to Ken-chan in the beginning. My glasses had been blown away and I couldn't see anyone. So I asked "Who's that?" and Ken-chan replied. He was the first one I saw. I asked, "Are there long boots?" because I was barefoot. And there weren't any. And then I went to the painters and asked, "Even if there aren't any boots, is there just nothing at all?" And they said, "Right now there won't be anything you can wear." So I came here, shaking, treading dirt. It was so cold…

■March 15th, 2011
10:11 Distribution of clothing received from nearby residence. Up to five pieces per person.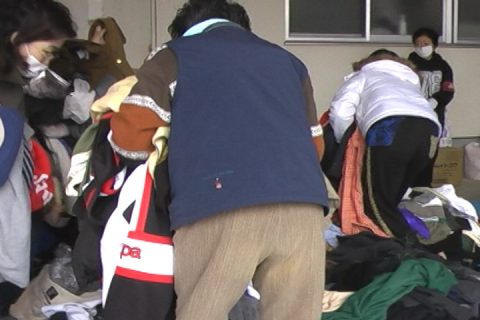 Clothing distribution announcement
Male volunteer: Here are some clothes that were provided to us by the many people living nearby. There are many kinds of clothes and we don't know if there are any that you need. Anyway if you are short on clothes, they are distributing them in front of the health center so I suggest you go there. If we receive any more clothing from now on we will be making an announcement like this one. Thank you for your cooperation. That is all.
Clothing Distribution


All kinds of information were posted on the bulletin board, such as "beware of theft," "timetable for bus to the morgue," "missing person," "volunteers needed."

10:15
Bus to the morgue March 15, 2011 Departing from in front of the town hall
(1) 9:00 (2) 10:30 (3) 12:30 (4) 14:30 (5) 16:00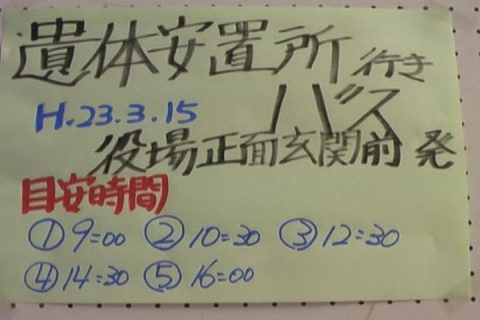 10:16
Clothing distribution
March 15th 10:00 In front of the health center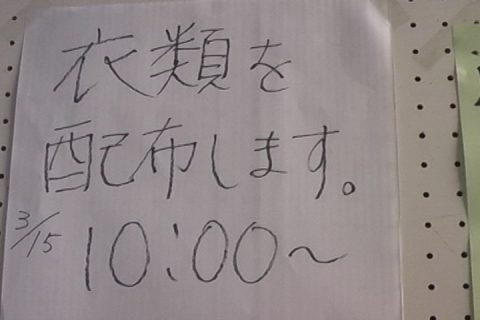 10:16
List of opened evacuation shelters
1. Hadeniwa Multi-purpose Center
2. Yamashita Daiichi Elementary School
3. Yamashita Daiichi Junior High School
4. Shonen no Mori
5. Yamadera Life Center
6. Asouhara Public Hall
7. Takase Multi-purpose Center (Yamato Kindergarten)
8. Kassenhara Academy
9. Sakamoto Branch
10. Sakamoto Junior High School
11. Kuboma Life Center
12. Kaminaka Elders' Home
13. Miyagi Hospital
14. Maniwa Civic Center
15. Town Hall
16. Fukuda Elementary School (Shinchi)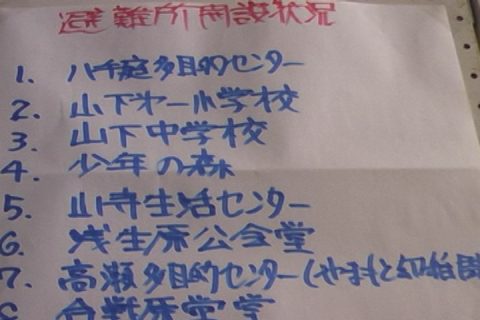 10:16
Yamashita Junior High School, Sakamoto Middle School: We can take in more people.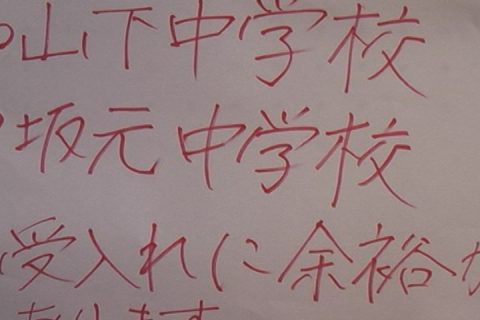 10:16
Map for the evacuation shelter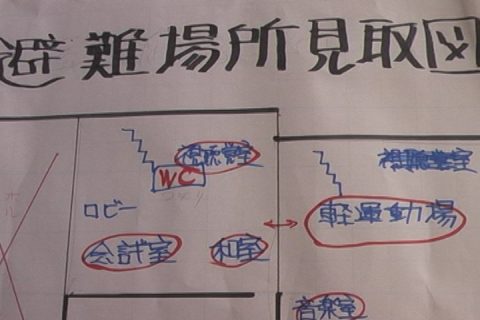 10:16
Indoor toilets have reached capacity (clogged with sewage) and not available. Temporary toilets have been installed outside, so please use them instead.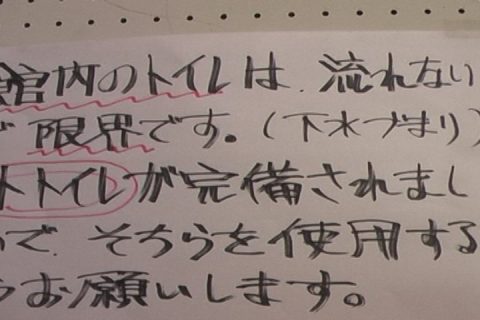 10:16
There may be a tsunami. Please do not return to your home.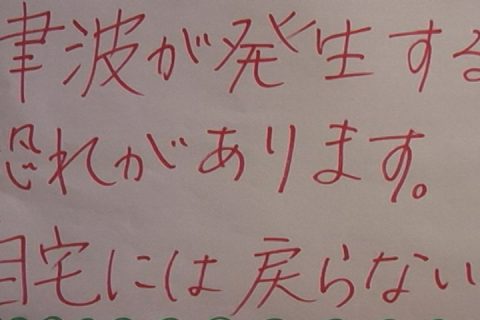 10:16
There has been an increase in the number of car thefts. Please make sure to lock your car.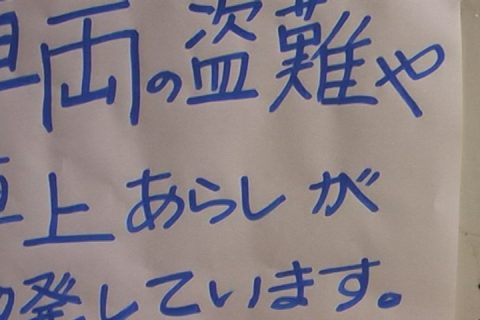 10:17
Temporary toilet locations
1. South of the Civic Hall 2. Next to the Archive Hall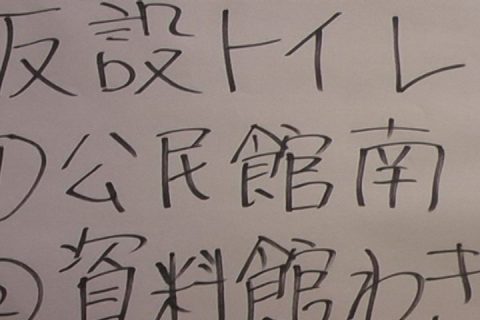 10:17
Volunteers needed at the Nakako evacuation shelter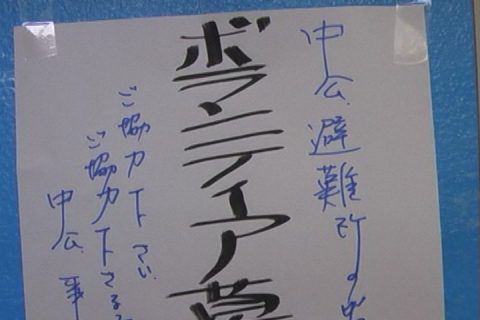 10:21
Foreign media came for news material.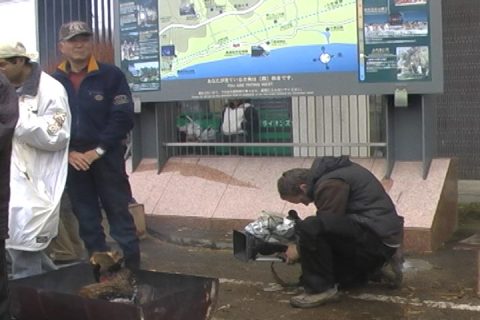 10:28
Newspapers were posted on the bulletin board.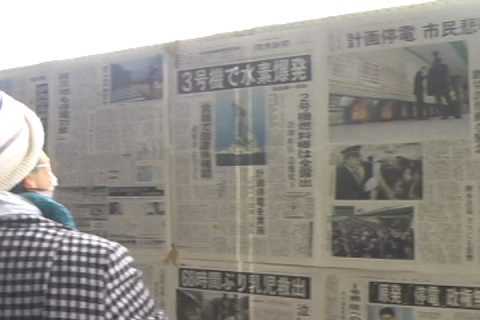 10:09
Civilians at the evacuation shelter began to clean the place voluntarily.


*This article was written for the purpose of conveying the situation during the earthquake through videos, audios, and texts, from a documentary point of view. We have tried our best to avoid infringement of rights such as copyright. However, if you have any concerns, please let us know.
Recorded on
11 March, 2011
Recorded by
Shuichi Sato
Recorded at
Yamamoto Town Hall
Keywords